BenQ BH2801

Where there is space, there is opportunity for adaptable perfection.
Overview:
The bar type display panel is a long structured design panel that is rarely seen on the market. Designed with a slim form factor, this display panel can be used in small or large spaces to display everyday information 24/7.
Key Features
28" E-LED
1920 x 360 (16:3) Resolution
3000:01 Contrast Ratio
Brightness 1000 nits
The Ultimate Promotion Solution for Shelves
On-shelf promotions are the final piece of information customers see before making purchasing decisions. By switching from uninspiring paper shelf labels to dynamic BenQ Stretch Displays, retail operators can enhance their stores' last mile promotions to positively influence customers' decisions and boost sales. Because shelves are usually crowded and have little room for cables, an advertising solution should be selfcontained. That's why the BenQ's Stretch Display Series is an all-in-one media solution with a built-in Android operating system. Every BenQ Stretch Display Series model also comes with X-Sign, BenQ's exclusive signage management software. X-Sign includes templates that are optimized for Stretch Display's long-and-narrow screen size, making it easy to design and display dynamic content, such as videos and scrolling text. Furthermore, BenQ's Device Management Solution (DMS) allows administrators to remotely manage displays, update firmware, and control power on/off from a centralized location, thereby saving the time and labor needed to visit each individual display
Features:
Eye-Catching Signage for Every Space
For retail operators that want to optimize shelf space to increase revenue with last mile promotions, BenQ's Bar Type displays are the leading choice. Every Bar Type display comes packaged with X-Sign, BenQ's exclusive signage management software. X-Sign makes it easy to design, display, and replace dynamic content, such as videos and scrolling text, which are more efficient than static ads. More importantly, BenQ's Bar Type displays provide an ideal combination of hardware features. Especially designed to fit on shelves, BenQ Bar Type signage is a perfect match for numerous retail configurations. Meanwhile, having Android built in means that BenQ Bar Type displays are truly plug-and-play, all-in-one devices – no external media player, external speakers, or unsightly cables required. Furthermore, anti-reflective glass-coated screens lend the Bar Type series of displays a fashionable allure that integrates seamlessly into boutique and high-end retail operations.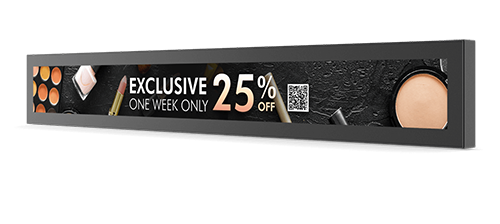 ---
All-in-One, Clutter Free Solution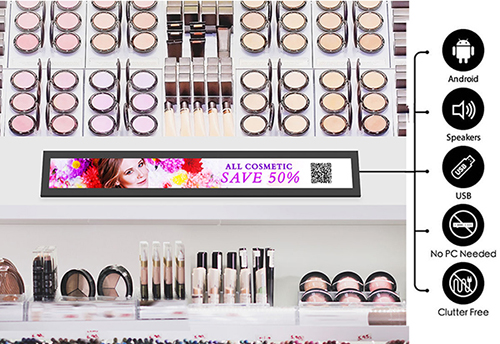 Android Built-In
Built-in Android means that BenQ BH2801 is ready to work as soon as operators plug it in. There's no need to hook it up to a PC or other device to serve content, and embedded speakers provide for BH2801's audio needs. With no cables to hide, the all-in-one BH281 fits neatly on shelves and reduces clutter.
USB Plug & Play
BH2801's plug-and-play simplicity enables you to access and play multimedia files directly from a USB flash drive. Requiring no PC connection or complicated cable setup, BH2801 ensures a holistic shopping experience with the most hassle-free installation.
---
Elegant, Durable Display Cover
Anti-Reflective Glass
BenQ BH2801's display is covered with high-performance anti-reflective glass that ensures content is always vibrant and clear. With a beautiful design that looks like an integral part of the shelves it sits on, BH2801 can confer a distinctive premium atmosphere to retail outlets and boost brand positioning.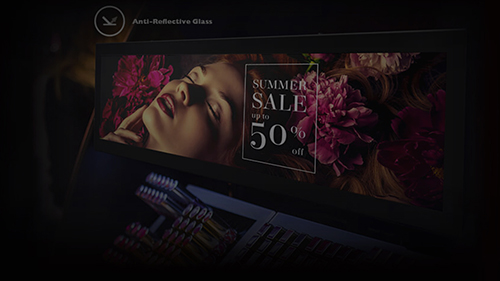 ---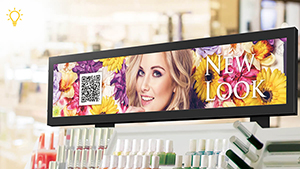 High Brightness
At 1000 nits brightness, striking colors and clarity still can be provided even in brightly lit environments, which allows BH2801 to fully support your indoor and semi-outdoor applications.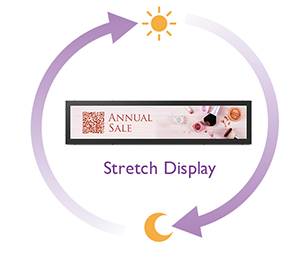 24/7 Non-Stop Operation
A 55,000-hour lifespan and industrial-class performance make BH2801 far more economical than consumer display models. Built especially for business use with advanced panel technology, BH2801 can provide reliable 24/7 non-stop performance for years and years.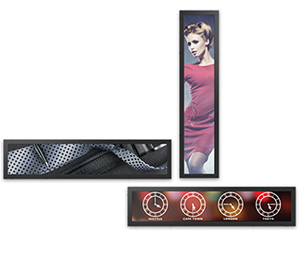 Flawless Display in Portrait and Landscape View
Unlike anything else available on the market, BenQ Bar Type displays are built to ensure flawless portrait and landscape view. This choice between vertical and horizontal installation greatly increases flexibility when operators are designing and arranging their stores.
---
Integrated X-Sign 2.0 Software with Stretch Content Templates
X-Sign Designer
BenQ's X-Sign 2.0 takes the hassle out of designing signage content. Included with BH2801, BenQ's exclusive X-Sign software provides content templates that are especially designed for long-and-narrow bar-type displays, making it easy for operators to quickly design and roll out new promotional material. The templates also let operators add images, videos, and scrolling text to their marketing materials. The long-size templates let operators create marketing content easily while the ability to enrich materials with media content will boost the store's bottom line.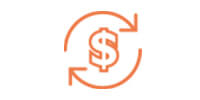 Instant Price Updates
Updating prices and other fluctuating content is easy. Operators just need to modify a centralized .csv file in cloud.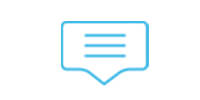 Real Time Messages
X-Sign lets operators push real-time messages to the display network to
create instant excitement.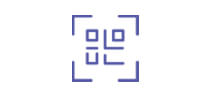 QR Code Interaction and Analysis
X-Sign allows operators to embed QR Codes that, when scanned, can offer customers latest promotional information. X-Sign also offers QR Code analysis to let operators see when and where customers are interacting with content. This analysis can help operators quickly adjust their offers to match customer interest.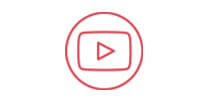 Broadcast YouTube Live Streaming across Multiple Displays
With X-Sign, operators can insert live YouTube broadcasts of product launches on Smart Signage in real time, which makes promoting new products instant and easy.
---
Centralized Remote Display Management
X-Sign's intuitive interface makes it easy for operators to monitor and manage all remote displays from a central, off-site location. With X-Sign, operators can keep tabs on display performance in real-time and receive instant alerts about any issues. Loaded with functionality, X-Sign also allows operators to see what content is playing on each display, manage updates, restart displays, and manage screen on/off and volume settings.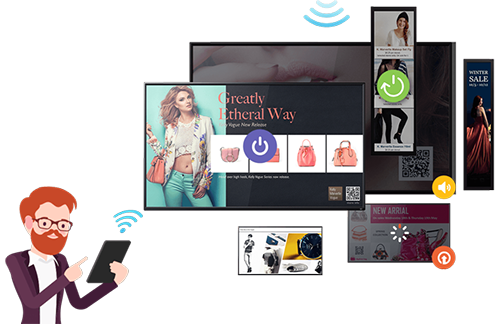 Hassle-Free Display Management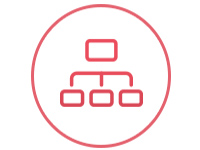 Network Distribution via the Cloud
Centralized Management of Multiple Displays in Multiple Locations
X-Sign's cloud-based calendar-view web interface allows operators to manage their displays remotely.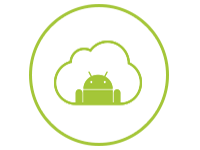 Local Delivery via LAN
One-Stop Management of All In-Store Displays
By connecting a PC and the digital signage to the same LAN, operators can distribute and control content for up to 16 displays.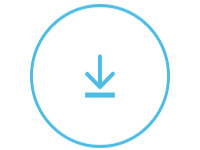 Plug and Play with USB Flash Drive
Simple Single-Display Management
Operators without a network can save scheduled content to a USB flash drive and plug it into the interactive signage for playback.
Image Gallery:
BenQ BH2801 Image Gallery



Front View




Left-angle View




Right-angle View




Left View




Right View




Vertical View




Top View
BenQ Digital Signage Overview-
BenQ Bar type Displays Overview-
Specifications:
BenQ BH2801 Specifications
Panel
Screen Size
28"
Backlight / Lightsource
E-LED
Active Area (Horizontal × Vertical) (mm)
699.4 x 133.0 mm
Resolution (Pixels)
1920 x 360
Brightness (typ.)
1000 nits
Contrast Ratio (Typical)
3000:1
Aspect Ratio
16:3
Light Life (Typical)
55,000hrs
Display Orientation
Landscape / Portrait
System
OS
Android
System Memory (GB)
2GB
Storage (GB)
32GB
Audio
Internal Speaker (Amp)
1W x 2
Glass
Tempered Glass
Yes
Connectivity
HDMI In/Out
x1 / N/A
USB port (Type A)
x2 / N/A
RJ45 Port In/Out
x1 / N/A
Control
RS232 In / Out
x1 / N/A
Power
AC/DC In
DC
Voltage
100V ~ 240V, 50Hz / 60Hz
Power Consumption (typical / standby)
20W/ < 0.5W
Mechanical
Dimension (W×H×D) (mm)
728.8 x 162.4 x 45.5mm
Bezel Width (top / bottom / left / right) (mm)
14.7/ 14.7 / 14.7 / 14.7mm
Weight (w/o Packing/ w/ Packing) (kg)
5.4kg / 8.1kg
Wall Mounting (VESA) (mm)
400 x 100 (4 holes) 4 - M4 x 10L
Environment
Operation Temperature
0°C ~ 50°C
Storage Temperature
-25°C ~ 60°C
Usage (Hour/Day)
24/7
OSD
On-Screen Display Languages
English Simplified Chinese (2 Languages) ==> English / French / German / Dutch / Polish / Russian / Czech / Danish / Swedish / Italian / Romanian / Finnish / Norwegian / Greek / Hungarian / Spanish / Portuguese / Traditional Chinese / Simplified Chinese / Arabic / Japanese / Thai / Persian / Vietnamese / Korean (25 Languages)
Software
Multiple Display Control (MDA) Support
Yes
X-Sign (please check X-Sign website for detailed compatibility info.)
Yes
Accessory
Remote Control
Yes
Power Cord (By region)
Yes
HDMI Cable
Yes
RS232 Cable/RS232 Loop Cable
Yes / No
Quick Start Guide
Yes
User's Manual Electronic File
Yes
Pricing Notes:
Pricing and product availability subject to change without notice.
BenQ Products
Digital Signage
BenQ BH2801 Bar Type Digital Signage
#BH2801
List Price:
$1,899.00
Our Price: $1,861.00