BenQ MW855UST

Network Pen and Touch Interactive WXGA Projector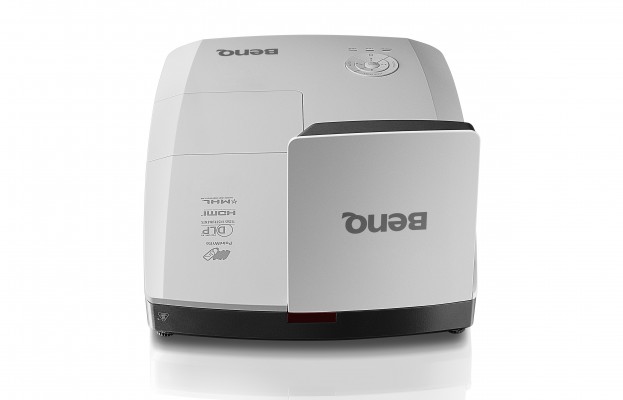 BenQ MW855UST 3500 Lumens WXGA Network Pen and Touch Interactive Projector
#MW855UST
List Price: $1,999.00
Our Price: $1,446.00
Overview:
The BenQ MW855UST is the ideal classroom interactive projector solution. Delivers 3500 lumens bright image with large, easy to read text and graphics with crisp shadow details and rich, accurate colors. Its ultra-short throw design can deliver 100" diagonal image from a distance of only 32", enabling teachers to present their lessons free from projection light in their eyes, while its powerful 20W stereo output ensures lessons are clearly heard. Students will enjoy collaborative interactive learning with PointWrite™ pen and finger Touch optional interactive features.
Key Features
Native WXGA (1280 x 800) Resolution
3,500 ANSI Lumens, 10,000:1 High Contrast Ratio
8% Vertical Lens Shift
Up to 6000 hours lamp life
PointWrite Interactive Kit Compatible
Wall Mount Included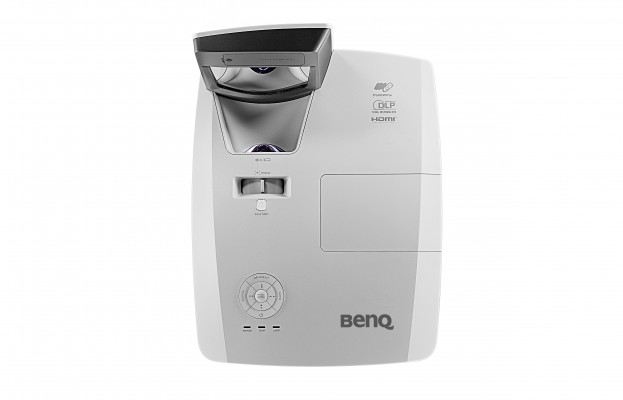 Features:
More effective teachers, more engaged students
Ultra short-throw projectors enable teachers to be more effective by delivering large, bright, engaging images, free from harsh projection light in the eyes and distracting shadows.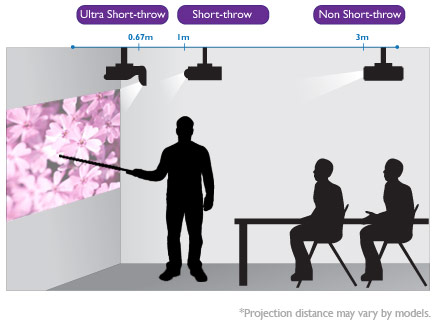 Quick and Easy Installation
Lens Shift for installation flexibility
Offers additional installation flexibility by enabling installers to optically shift the image up or down up to 4% to overcome minor miscalculations during projector installation. Provides peace of mind, knowing the projected image will precisely land on the screen.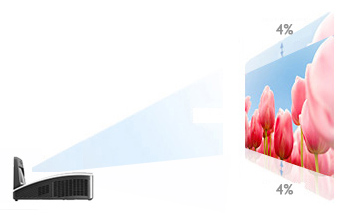 Wall Mount, Included
Designed to provide a secure, fast and easy projector installation experience, BenQ has added a number of helpful installation features into this latest generation wall mount. Easy Slide rails for fast and secure projector mounting, installation template to provide precise, easy-to-follow installation guidance and front-of-mount control knobs to provide precise final image alignment for maximum ease of installation.
Corner Fit Correction
Provides the ability to correct vertical and horizontal keystone errors introduced when the projector is placed off center from the screen. Ideal for use during quick setup tabletop presentations.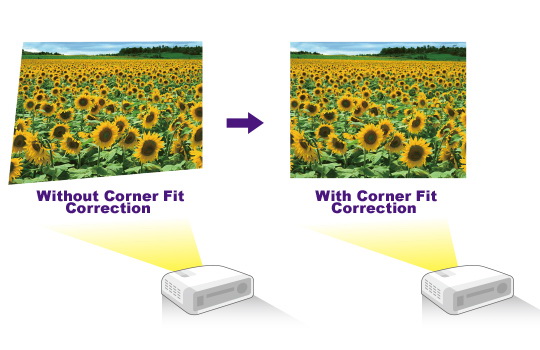 The Innovation of BenQ Interactive solution
BenQ Interactive Learning Technology 
Foster Active Learning Through PointWrite Interactivity and Classroom Collaboration
Keeping students involved and engaged is a central tenant of the BenQ Smart Classroom philosophy – Outfitting the MW855UST with latest PointWrite pen interactive technology is a great way to let multiple students simultaneously contribute. BenQ brings interactive innovation and touch solutions to a new level of performance, ease of use and control, supporting flipped learning and engaging students like never before. Teachers now can turn any flat surface into an interactive whiteboard and get up to 4 students to simultaneously collaborate using PointWrite™ pens or plain fingers.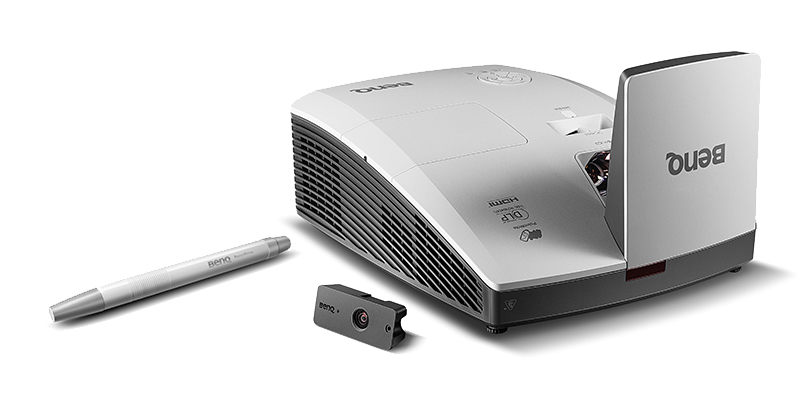 SmartEco Lamp Saving Technology
Incorporating BenQ's renowned SmartEco lamp saving Technology, the MW855UST not only offers greater energy savings, but continues to deliver amazing picture quality through this innovative technology. SmartEco mode is designed to use only the exact amount of lamp power the projector needs to deliver the best contrast and brightness performance. This feature enables the MW855UST to deliver uncompromised projection quality with the added benefit of reduced the total cost of ownership by extending the lamp life and lowering power consumption.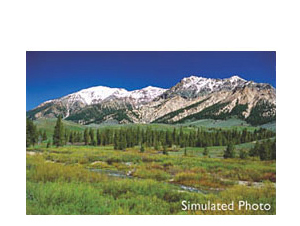 Normal Mode
296W Projector Power Comsumption by Average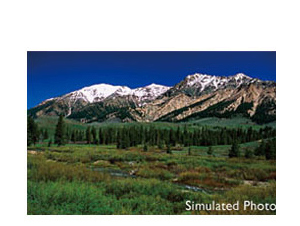 SmartEco Mode
Enhanced Details in Darkened Scenes
163W Projector Power Comsumtion by Average
Eco Blank Mode
The Eco Blank feature allows users to blank or mute the projected image on the screen, affording privacy to search for files or documents while the desktop is not projected to the entire audience. When activated, Eco Blank automatically dims lamp power, therefore lowering total power consumption by up to 70%.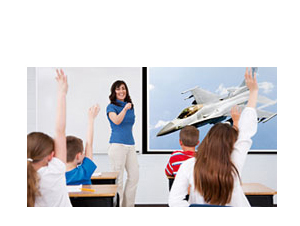 Full Power On
100%Lamp Power
Attention on the Projection Screen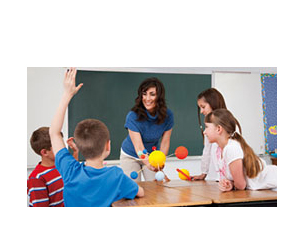 Eco Blank Mode On
30% Lamp Power at the Lowest
Attention on the Class Instructor
No Source Detected Mode
There will be times when a projector is turned on without a display source, such as a notebook or classroom PC connected. To avoid having a projector running at full lamp power, BenQ created the No Source Detected feature, which lowers the projector's lamp brightness to 30 % after the projector has remained unconnected to a display source for more than three minutes.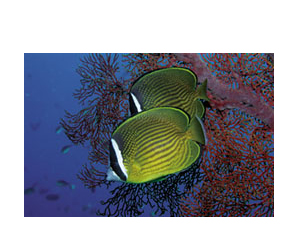 Source Detected
100% Lamp Power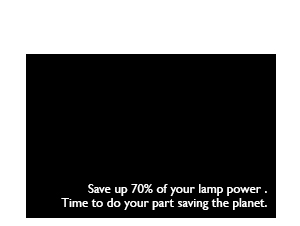 No Source Detected
30% Lamp Power
Hassle-Free Projector Maintenance
Projector Management through LAN Control
LAN Control is designed to help IT managers perform day-to-day projector maintenance and repair tasks efficiently and effectively – offering them full access and control over every projector directly from their workstations. The MW855UST offers seamless support for the Crestron and AMX LAN Control system.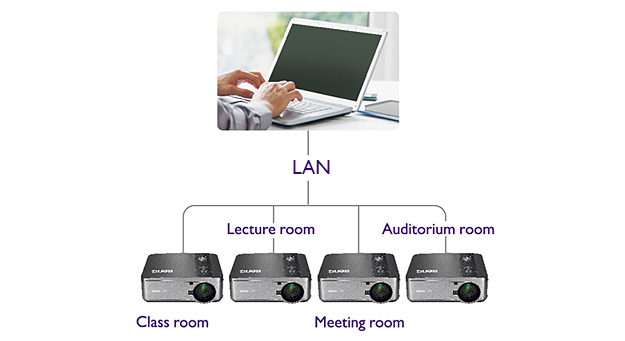 Dual Screen with Multiple Touch Capabilities
BenQ Dual Screen feature allows teachers to create an immersive learning experience by joining two PointWrite™ interactive projectors to generate an ultra-wide interactive image. This creates the opportunity for super-sized learning, helpful for teaching a variety of subjects, such as the solar system, virtual field trip around the world, or simply a great big canvas for co-creation.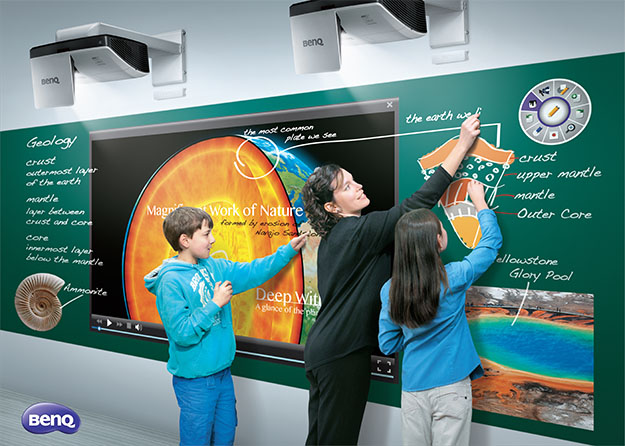 PointWrite Features:
Supports up to 4 pens/ fingers
Effortless setup with only 1 second auto calibration*
Ultra-fast 0.016-second response time for a smooth, natural writing experience
Win8 native multi touch and gesture supported
*Calibration speed may vary depending on computer system.
**The function is available with optional PointWrite Kit.
Good Things Come in Short Distances
Zero Space Constraints
You don't need a big room or a lot of free ceiling space to create a big picture when you've got an ultra short-throw projector! Teachers can turn every corner into the perfect place for educational use.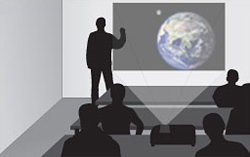 Non Short-throw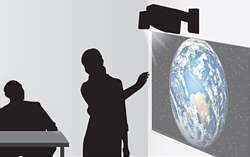 Short-throw
Zero Shadow Disruptions
An ultra short-throw projector can be placed close to the screen in front of the class and well out of students' way, greatly decreasing the occurrences of shadow disruptions. Teachers can enjoy teaching without worrying about the class being interrupted.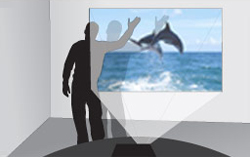 Non Short-throw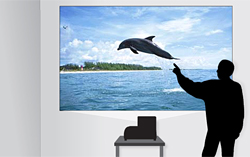 Short-throw
Zero Eye-Blinding Lights
An ultra short-throw projector keeps the projector light from shining directly into everyone's eyes. The intensity of the projector beam may be potentially harmful. So it's for the best to keep it out of the way.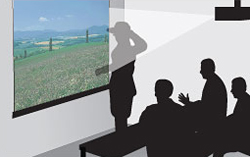 Non Short-throw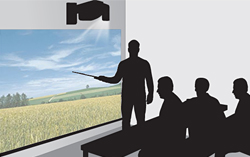 Short-throw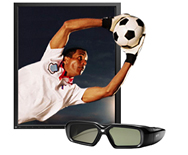 Blu-ray Full HD 3D Supported
BenQ MW855UST is built with latest DLP technology to support 3D functionlity, allowing schools to bring an immersive learning experience to their students with a simple preparation of 3D glasses and 3D content.
MHL Connectivity
With the support of MHL technology, teachers and students can share photos, videos, websites and even games from their Android smartphone or tablet instantly. Simply connect the smart phone or tablet to a BenQ classroom projector via an MHL cable and watch the contents mirrored on the projected screen.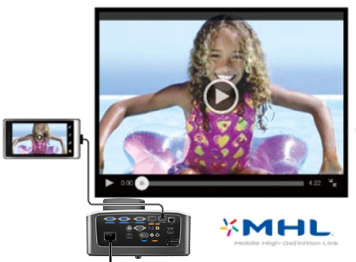 BenQ Projectors ︱ Long-Lasting Image Perfection with DLP Technology
Digital Light Processing (DLP), awarded 2015 Academy Award of Merit (Oscar statuette), is the leading projection technology used in 90% of world's digital cinemas and 100% of IMAX theaters. With DLP dominating the worldwide projector market with over 50% share, BenQ is today the #1 bestselling DLP projector brand, delivering unmatched world-class performance.
Timeless Image Quality: Colorific Technology Delivers Lifelike Color, Year After Year
BenQ uses Colorific technology to optimize images for specific color balance effects for diverse applications such as presentations, movies and spreadsheets and photographs. Every BenQ Colorific projector generates more than one billion colors by combining up to seven different colors to create vibrant, true to life images. You'll also experience dramatic contrasts for remarkable clarity, higher impact, and greater legibility. BenQ's Colorific projectors are dependable year after year. You can rely on the colors to remain the same from day one to a decade later--without the risk of fading, ghosted images, or yellowing.
Accurate. Over 1 billion colors - compared to 16.7 million from many LCD projectors
Crisp. Bright, high contrast picture - 3x more contrast than similar top-selling LCD models
Long-Lasting. Consistent quality - image is the same now and years from now
Non-DLP Projector

BenQ DLP Projector

DLP Technology also includes a filter-free engine design for carefree confidence in long-lasting image quality and reduced TCO. BenQ's SmartEco Technology further boosts contrast performance and image quality endurance while saving up to 70% on lamp power consumption.
Razor-Sharp Clarity with Ultra-Readability
Enabling a 96% fill factor, DLP Technology supplies pixel circuitry behind the pixel, thereby eliminating the thick dark bezels around individual pixels, which diminishes color and detail. A higher fill factor and less black border translate into noticeably purer, more intense color and smoother image quality. 
BenQ DLP Projectors also feature high contrast ratios for flawless rendering of small text, fine lines, and dark scene details. Blacks are deeper and overall image quality is more focused and clean. Your presentations will be easily readable and highly effective, even from the back row of a well-lit room.

Vibrant, True-to-Life Colors
Even in well-lit venues, BenQ DLP Projectors achieve the optimal balance of brightness and color accuracy. BrilliantColor technology additionally boosts true-to-life colors that captivate. BrilliantColor enables up to six-color processing by incorporating the secondary colors Yellow, Cyan, and Magenta along with the primary Red, Blue, and Green colors. From intense hues to elusive mid-tones like aqua blues and light yellows, every presentation is rendered in pure, living splendor.

ecoFACTS Label
ecoFACTS can tell you how eco-friendly BenQ products are!
Development of eco-friendly products, BenQ doesn't just want to comply with green regulations passively, but also to actively develop eco-friendly products!
ecoFACTS declares BenQ's greatest efforts on the replacement of hazardous substances, material selection, packaging design, energy-saving design and other aspects of the products.
Video:
The Innovation of BenQ Interactive solution
Specifications: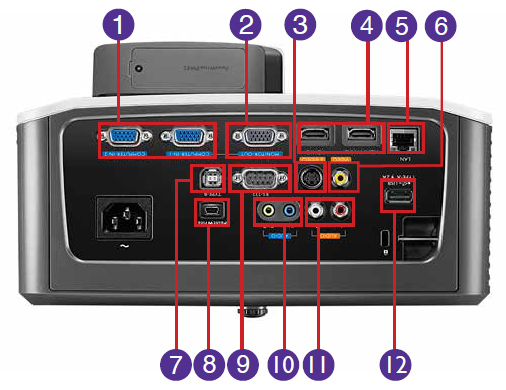 Computer in 1 & 2 (D-sub 15pin)
Monitor Out (D-sub 15pin)
S-Video In (Mini DIN 4pin)
HDMI 1 & 2
LAN
Composite Video in (RCA)
USB (Type Mini B)
PointWrite
RS232 (DB-9pin)
Audio In/Out (Mini Jack)
Audio (L/R)
USB (Type A)
BenQ MW855UST Specifications
Model
MW855UST
Projection System
DLP
Native Resolution
WXGA (1280 x 800)
Brightness* (ANSI Lumens)
3500 ANSI Lumen
Contrast Ratio
10,000:1
Display Color
1.07 Billion Colors
Lens
F2.5, f=5.1mm
Aspect Ratio
Native 16:10 (5 aspect ratio selectable)
Throw Ratio
0.35
Image Size (Diagonal)
80"~100"
Zoom Ratio
Fixed
Lamp Mode (Normal/ Economic/ SmartEco/ LampSave/ LumenCare)*
3,000/ 4,000/ 6,000/ NA/ NA hours
Keystone Adjustment
2D, Vertical/ Horizontal ±15 degrees
Corner fit ±5 degrees.
Projection Offset
140%~148% (±5%)
Resolution Support
VGA (640 x 480) to UXGA (1600 x 1200)
Horizontal Frequency
15 - 102KHz
Vertical Scan Rate
23 - 120Hz
Lens Shift
8%
Interface
Computer In (D-sub 15pin) x 2 (Share with component)
Monitor Out (D-sub 15pin) x 1
Composite Video In (RCA) x 1
S-Video In (Mini DIN 4pin) x 1
HDMI/ MHL x 2 (HDMI 1 with MHL)
Audio L/R In (RCA) x 1
Audio In (Mini Jack) x 1
Audio Out (Mini Jack) x 1
Speaker 10W x 2
USB (Type mini B) x 1 (PointWrite interactive module)
USB (Type B) x 1 (FW download)
USB (Type A) x 1 (5V 2A Power for PT02 Touch module)
RS232 (DB-9pin) x 1
IR Receiver x 1 (Front)
Dimensions (W x H x D mm)
373.3 x 287.5 x 130.2mm (w/o Mirror)
373.3 x 287.5 x 201mm (w Mirror)
HDTV Compatibility
480i, 480p, 576i, 567p, 720p, 1080i, 1080p
Video Compatibility
NTSC, PAL, SECAM
Weight
5kg (w/o wall mount)
Audible Noise (Normal/Economic Mode)
34/29 dBA (Normal/ Economic mode)
Picture Modes
Dynamic/ Presentation/ sRGB/ Cinema/ User 1/ User 2
Power Supply
AC100 to 240V, TBD A, 50 to 60 Hz
Power Consumption
Normal 320W, Standby < 0.5W
On-Screen Display Languages
Arabic/Bulgarian/ Croatian/ Czech/ Danish/ Dutch/ English/ Finnish/ French/ German/ Greek/ Hindi/ Hungarian/ Italian/ Indonesian/Japanese/ Korean/ Norwegian/ Polish/ Portuguese/ Romanian/ Russian/ Simplified Chinese/Spanish/ Swedish/ Turkish/ Thai/ TraditionalChinese (28 Languages)
Accessories (Standard)
Remote Control w/ Battery : RCS011
Power Cord (by region): 2.9M
User Manual CD x 1
Quick Start Guide x 1
Warranty Card (by region) x 1
VGA (D-sub 15pin) Cable x 1
Wall Mount WM04G4
Accessories (Optional)
Spare Lamp Kit P/N: 5J.JC505.001
3D Glasses_DGD5 P/N: 5J.J9H25.001
PointWrite Pen Package PW01U P/N: 5J.J8L26.20E
PointWrite Touch Package PT02 P/N: 5J.J8L26.11E
*Lamp life results will vary depending on environmental conditions and usage. Actual product's features and specifications are subject to change without notice.
Pricing Notes:
Pricing and product availability subject to change without notice.
BenQ Products
Projectors
BenQ MW855UST 3500 Lumens WXGA Network Pen and Touch Interactive Projector
#MW855UST
List Price:
$1,999.00
Our Price: $1,446.00