BenQ SU922

Full WUXGA Projector
Overview:
The BenQ SU922 is the perfect projector solution for medium to large size conference rooms, training rooms, higher education and houses of worship. Delivers 5000 lumens bright, large-screen presentations with incredible image detail and rich, vibrant, true-to-life color.
Key Features
Native WUXGA (1920X1200) resolution
5,000 ANSI Lumens
3,000:1 high contrast ratio
Vertical lens shift
Big 1.6x zoom
Easy installation and control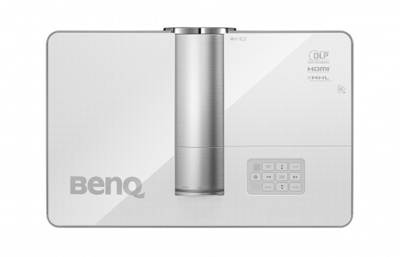 Features:
Winning Presentations Made Easy
Designed for today's conference rooms, the BenQ SU922 provides perfect combination of brightness and features necessary to deliver world-class, winning presentations. Dual HDMI inputs with MHL connectivity, razor sharp optics, vertical lens shift with ample 1.6X zoom ratio and center-lens design for flexible installation, microphone input, 20W audio to ensure your message is clearly heard, LAN control with Crestron RoomView and PJLink functionality for remote projector management, whisper quiet fan and much more.
Elegant Industrial Design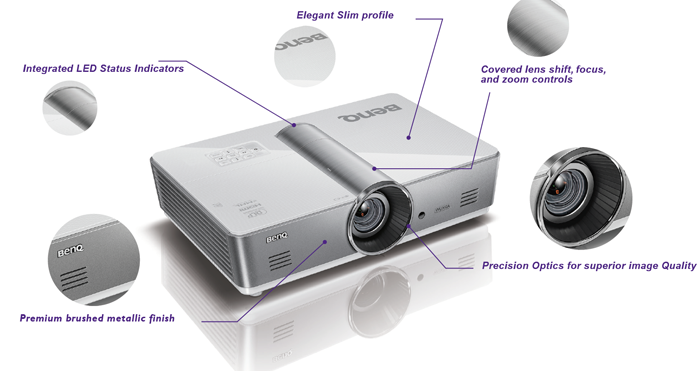 Installation Flexibility
Big Zoom 1.6X
The 1.6X big zoom lens opens up a wider range of installation possibilities, making it easier to achieve the image size you need from the location you want. This additional installation flexibility makes the SU922 ideal for use in new and replacement installations.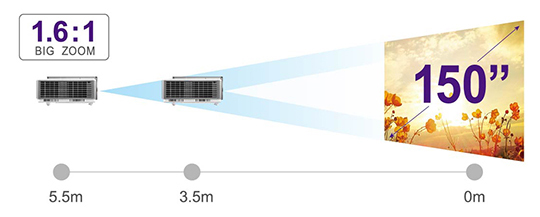 Vertical Lens Shift
Optical Lens Shift provides installation flexibility as it enables installers to overcome minor miscalculations during projector installation. Provides peace of mind, knowing the projected image will precisely land on the projection screen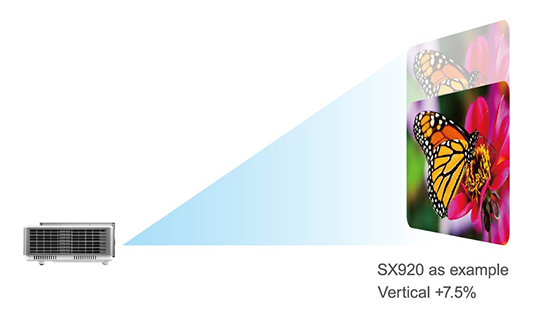 Central Lens Design
The symmetrically centered lens design of the BenQ SU922 allows easy installation without special calculations or adjustments.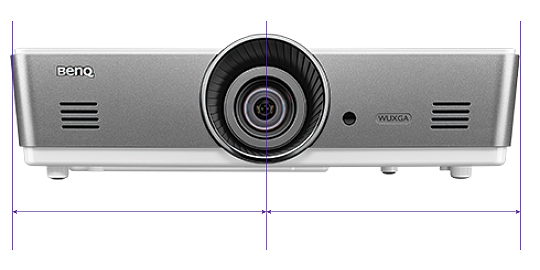 2D Keystone Geometric Correction
Provides the ability to correct vertical and horizontal keystone errors introduced when the projector is placed off center from the screen. Ideal for use during quick setup tabletop presentations.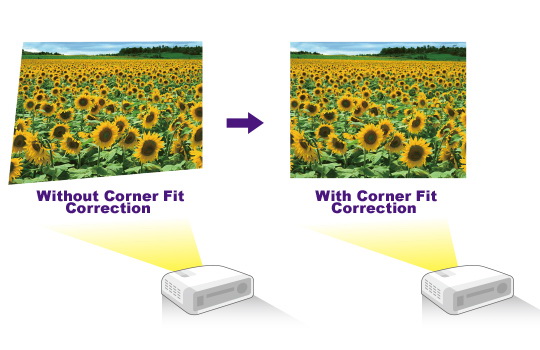 Corner Fit Geometric Correction
Corner fit is a flexible and convenient way to perfectly align the image on the screen by adjusting each corner of an image independently.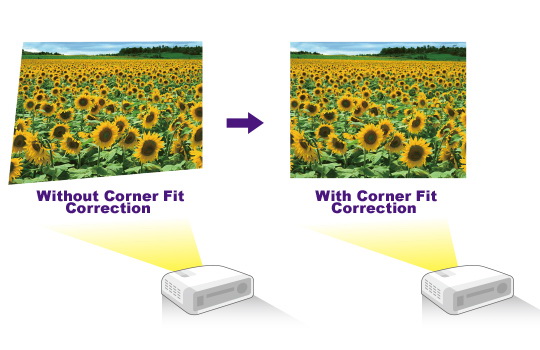 Image Quality
5000 ANSI Lumens
With its powerful 5000 ANSI lumens bright image, the SU922 will enable you to present your best under most lighting conditions. Perfect for lights-on presentations.

High Resolution
With up to 2.3 million pixels of resolution, surpassing that of 1080p, presenters can display more information with greater clarity and image detail than ever before. WUXGA resolution offers a larger overall desktop so your audience can see more of your presentation, making your presentations more memorable in their minds.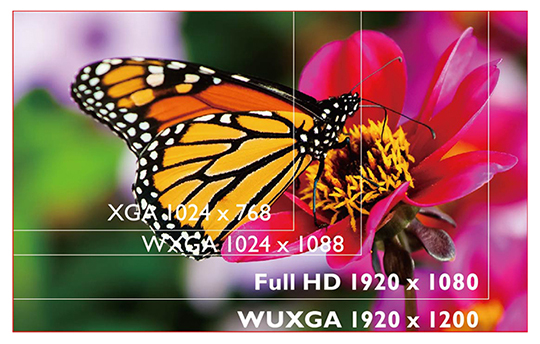 High Contrast
BenQ's precision engineering and extensive manufacturing expertise are combined in the SU922 to produce a high native contrast ratio. Resulting in projected images with crisp readable text and graphics with fantastic shadow detail.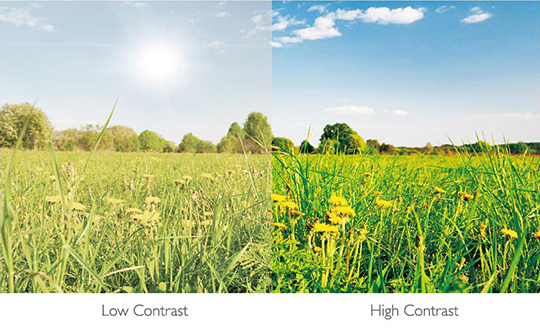 Powerful Built-in 20W Audio
The SU922 features powerful, room filling 20-Watt audio. Delivering crisp, clear, acoustically balanced sound to fill even the largest rooms, allowing your message to be clearly heard.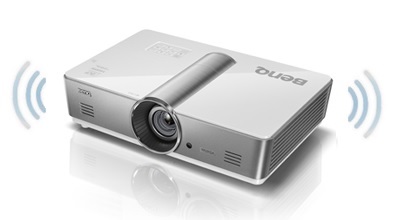 Ease of Operation
LAN Control
Designed to help IT managers perform day-to-day projector maintenance efficiently, LAN Control provides full access and control over networked projectors directly from IT workstations. The interface offers seamless support for Crestron, RoomView and PJ-Link LAN control systems.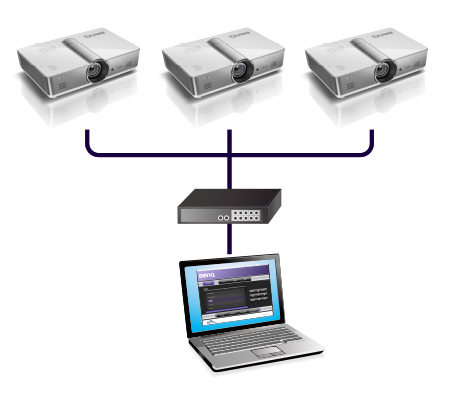 Upper Lamp Door
Top loaded quick-release lamp doors offer easy lamp access without removing the projector from the ceiling mount, making basic projector maintenance a breeze.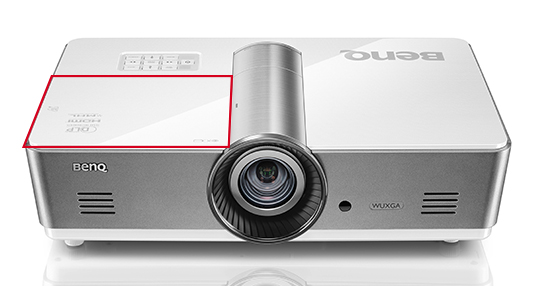 MHL Connectivity
MHL connectivity allows you to share content directly from mobile devices such as phone or tablet on the big screen. Requiring just a simple MHL cable or dongle connection from your mobile device to the projector.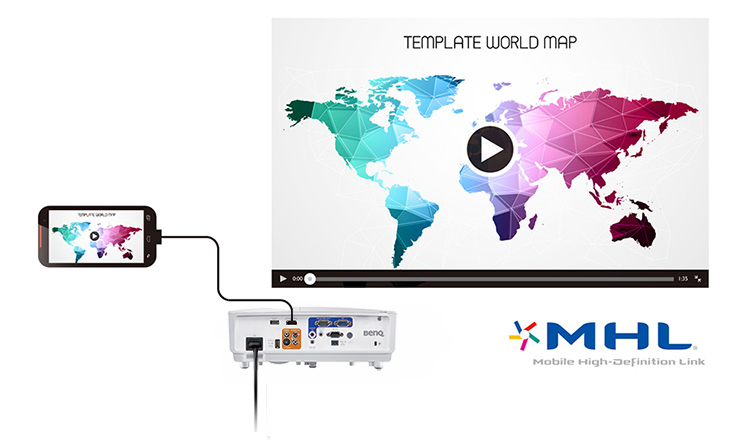 Powered USB
The USB port on the SU922 supplies power for accessories such as wireless dongles.
Filter-Free Design
The BenQ SU922 uses a filter-free design made possible by the DLP Technology in this projector. Provides years of reliable service with stable, long-lasting image quality and reduced total cost of ownership, as there are no filters to service or maintain.
Long lasting picture quality
Thanks to powerful DLP technology that enables a nearly sealed engine design, BenQ DLP projectors deliver perfect image quality, free from dust damage or color decay that affects other display technologies. Even after thousands of hours of use, BenQ projectors deliver pristine image quality as when the projector was first put into use.
Perfectly Long Lasting Picture Quality with DLP Projection Technology
Digital Light Processing (DLP), awarded 2015 Academy Award of Merit (Oscar statuette), is the leading projection technology used in 90% of world's digital cinemas and 100% of IMAX theaters. With DLP dominating the worldwide projector market with over 50% share, BenQ is today the #1 bestselling DLP projector brand, delivering unmatched world-class performance.
Long-Lasting Image Perfection with DLP Technology
Timeless Image Quality: Colorific Technology Delivers Lifelike Color, Year After Year
BenQ uses Colorific technology to optimize images for specific color balance effects for diverse applications such as presentations, movies and spreadsheets and photographs. Every BenQ Colorific projector generates more than one billion colors by combining up to seven different colors to create vibrant, true to life images. You'll also experience dramatic contrasts for remarkable clarity, higher impact, and greater legibility. BenQ's Colorific projectors are dependable year after year. You can rely on the colors to remain the same from day one to a decade later--without the risk of fading, ghosted images, or yellowing.
Accurate. Over 1 billion colors - compared to 16.7 million from many LCD projectors
Crisp. Bright, high contrast picture - 3x more contrast than similar top-selling LCD models
Long-Lasting. Consistent quality - image is the same now and years from now
Non-DLP Projector

BenQ DLP Projector

DLP Technology also includes a filter-free engine design for carefree confidence in long-lasting image quality and reduced TCO. BenQ's SmartEco™ Technology further boosts contrast performance and image quality endurance while saving up to 70% on lamp power consumption.
Razor-Sharp Clarity with Ultra-Readability
Enabling a 96% fill factor, DLP Technology supplies pixel circuitry behind the pixel, thereby eliminating the thick dark bezels around individual pixels, which diminishes color and detail. A higher fill factor and less black border translate into noticeably purer, more intense color and smoother image quality.
BenQ DLP Projectors also feature high contrast ratios for flawless rendering of small text, fine lines, and dark scene details. Blacks are deeper and overall image quality is more focused and clean. Your presentations will be easily readable and highly effective, even from the back row of a well-lit room.

Vibrant True-to-Life Colors
Even in well-lit venues, BenQ DLP Projectors achieve the optimal balance of brightness and color accuracy. BrilliantColor technology additionally boosts true-to-life colors that captivate. BrilliantColor enables up to six-color processing by incorporating the secondary colors Yellow, Cyan, and Magenta along with the primary Red, Blue, and Green colors. From intense hues to elusive mid-tones like aqua blues and light yellows, every presentation is rendered in pure, living splendor.

Specifications: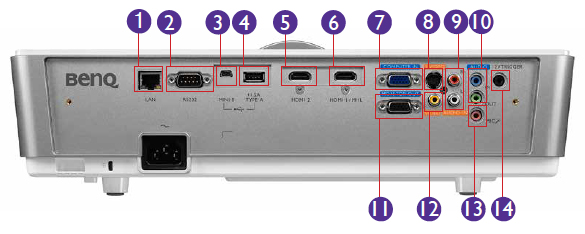 LAN (RJ45)
RS232 (DB-9pin)
USB (Type Mini B)
USB (Type A)
HDMI-2
HDMI-1 / MHL
Computer in (D-sub 15pin)
S-Video in (Mini DIN 4pin)
Audio L/R in (RCA)
Audio in/out (Mini Jack)
Monitor out (D-sub 15pin)
Composite Video in (RCA)
MIC
12V Trigger
BenQ SU922 Specifications
Model
SU922
Projection System
DLP
Native Resolution
WUXGA (1920 x 1200)
Brightness* (ANSI Lumens)
5,000 ANSI Lumens
Contrast Ratio
3000:1
Display Color
1.07 Billion Colors
Lens
F=2.45~3.07, f=15.78~25.12
Aspect Ratio
Native 16:10 (5 aspect ratio selectable)
Throw Ratio
1.07~1.71
Image Size (Diagonal)
60"~240"
Zoom Ratio
1.6x
Lamp Type
370W
Lamp Mode (Normal/ Economic/ SmartEco/ LampSave/ LumenCare)*
2,000/ 2,500 hours
Keystone Adjustment
2D, Vertical & Horizontal ± 30 degrees
Projection Offset
102.5% ±2.5%
Resolution Support
VGA (640 x 480) to UXGA (1600 x 1200)
Horizontal Frequency
15KHz~102KHz
Vertical Scan Rate
24Hz~120Hz
Lens Shift
Vertical: +2.5%
Interface
Computer In (D-sub 15pin) x 1 (Share with component)
Monitor Out (D-sub 15pin) x 1
Composite Video In (RCA) x 1
S-Video In (Mini DIN 4pin) x 1
HDMI x 2 (one MHL)
Audio In (Mini Jack) x 1
Audio L/R in (RCA) x 1
Audio Out (Mini Jack) x 1
Microphone-in (Mini Jack) x1
20W Stereo Speaker
LAN (RJ45) x 1 (LAN Control)
USB (Type A) x 1 (1.5A power suppy)
USB (Type mini B) x 1 (Download)
RS232 (DB-9pin) x 1
IR Receiver x 2
Dimensions (W x H x D mm)
16.18 x 4.66 x 10.53 inches (411.4 x 118.4 x 267.5mm)
HDTV Compatibility
480i, 480p, 576i, 567p, 720p, 1080i, 1080p
Video Compatibility
NTSC, PAL, SECAM
Weight
10.8 lbs (4.9kg)
Audible Noise (Normal/Economic Mode)
36/33 dBA (Normal/ Economic mode)
Picture Modes
Bright/ Presentation/ sRGB/ Cinema/ (3D)/ User 1/ User 2
Power Supply
AC 100V to 240V, 50Hz to 60Hz
Power Consumption
Typical 490W, Network Standby <6W, Stanby Power <0.5W
Power Management Function
Automatic power off after 20 minutes without a display source
On-Screen Display Languages
Arabic/Bulgarian/ Croatian/ Czech/ Danish/ Dutch/ English/ Finnish/ French/ German/ Greek/ Hindi/ Hungarian/ Italian/ Indonesian/Japanese/ Korean/ Norwegian/ Polish/ Portuguese/ Romanian/ Russian/ Simplified Chinese/Spanish/ Swedish/ Turkish/ Thai/ TraditionalChinese (28 Languages)
Accessories (Standard)
Remote Control w/ Battery 
Power Cord (by region)
User Manual CD
Quick Start Guide
Warranty Card (by region)
Lens cover x 1
VGA (D-sub 15pin) Cable
Accessories (Optional)
Spare Lamp Kit - P/N: 5J.JDP05.001
Ceilling Mount - P/N: 5J.JAM10.001
QCast Dongle P/N: 5J.JCK28.A01
Remote Control RCA022 P/N: 5J.JA606.001
3D Glasses - P/N: 5J.J9H25.001
*Lamp life results will vary depending on environmental conditions and usage. Actual product's features and specifications are subject to change without notice.
Pricing Notes:
Pricing and product availability subject to change without notice.
BenQ Products
Projectors
BenQ SU922 5000 ANSI Lumens WUXGA Projector
#SU922
List Price:
$3,299.00
Our Price: $1,699.00