BenQ RM7502K 4K UHD

75" Interactive Flat Panel
Overview:
75" Education Interactive Flat Panel Display RM7502K
Your Caring Mate for Enhanced Interactive Learning
The RM7502K is designed to tap into the dynamic possibilities of the classroom and help teachers build a healthy and engaging learning environment. Not only does it come with GeRP-Resistant Screen, but the RM7502K also comes installed with proficient annotation tools for enhanced class participation. It is your ultimate interactive display to achieve a touch-enhanced, smooth and fun learning experience.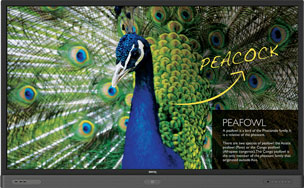 ---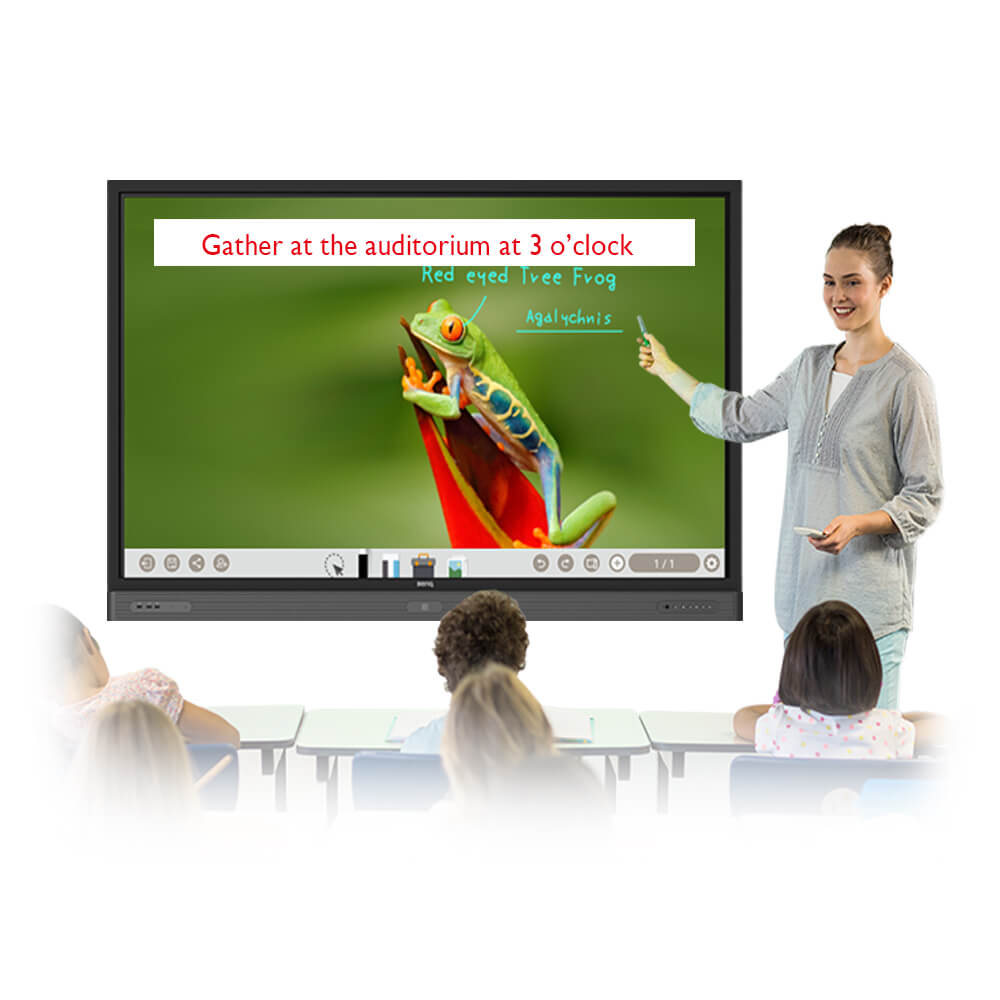 The Smart Broadcasting System with Instant Delivery and Easy Management

X-Sign Broadcast is a wireless broadcast system that can push alerts, messages and announcements during class. Unlike traditional classroom messaging systems, X-Sign Broadcast ensures immediate message delivery as well as group notification. Serving as a next-generation infoRPation center, X-Sign Broadcast lets you manage class time content and broadcast enriching material from any device. Creating an engaging learning environment has never been easier.
With its grouping function, X-Sign Broadcast can send messages to a selected group of screens, a single classroom or the whole school. The grouping function helps ensure infoRPation is only sent to the recipients for whom it's intended, while also reducing the time and labor required to send messages to multiple people.
Smart grouping by class or attributes
Messages can be sent to multiple recipients simultaneously
---
Smart Eye-Care Solution
The Smart Eye-Care solution can function intuitively with the help of the embedded motion sensor. For a smooth and comfortable viewing experience, RM7502K will automatically activate Flicker-Free and Low Blue Light features by detecting the movement of users close to the screen.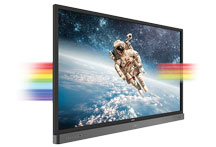 TÜV-Certified Low Blue Light Technology
Blue light emissions from displays may cause adverse health effects such as macular degeneration or disrupted melatonin secretion. BenQ's Low Blue Light technology minimizes blue light exposure and allows for healthier time spent in front of the display, helping you create the best and most comfortable viewing experience for you and your students.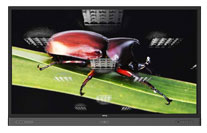 Anti-Glare Display
Screen glare can cause reflected images on the screen, making it challenging for students to see, take notes, and remain focused. The RM7502K's anti-glare glass surface can effectively reduce reflections, freeing students from excessive squinting with more legible text and clearer images, avoiding eye strain and facilitating more effective instruction.
Features:
Front-facing Speakers and External Microphone Compatibility for More Impactful Learning
RM7502K repositions the 20W audio speakers to the front, offering better sound transmission that elevates  the level of audiovisual enjoyment during classes. Additionally, RM7502K comes with a Mic-In port that allows teachers to connect external microphones, further facilitating an impactful and effective learning experience for students.
Nurture Uninterrupted Learning with BenQ Launcher
To further ensure uninterrupted learning for students, RM7502K streamlines the steps for teachers to start classes with BenQ Launcher. Created to aggregate all key tools in one hub, BenQ Launcher allows teachers to start using EZWrite whiteboard as well as accessing to variety input sources in a single tap without logging into their accounts. Teachers can also put announcements on the Sticky Notes. Additionally, BenQ Launcher comes with a task switcher, letting teachers effortlessly switch between recent apps and input signal sources at fingertips.
Instant Plug and Play
RM7502K can save you from the hassles of complicated setup. Simply connect to a PC via USB and you're all set to deliver compelling IFP touch-enhanced lessons.
InstaQShare Wireless Collaboration Solution
Integrated InstaQShare app enables easy wireless presentation and collaboration by screen mirroring. Launching the host app and downloading the client app onto an Android, iOS, Mac or Windows device, up to 16 participants can instantly stream content like presentations and full HD videos smoothly.
Smart Account Management System
Smart AMS features multi-account management via NFC technology allowing presenters to directly access personal system settings simply by tapping an ID card on the RM7502K's front-bezel sensor.
Intuitive Design
The smart design of RM7502K incorporates front I/O, a sound bar with two front speakers and integrated pen tray. It is equipped with NFC sensor and NFC pen.
Smart Eye-Care Solution
RM7502K provides proprietary eye-care technology with Flicker-Free perfoRPance and Low Blue Light emission preventing eyestrain and fatigue. With embedded motion sensors, the Smart Eye-Care solution can function intuitively. Advanced anti-glare screen treatment minimizes reflections and glare.
Specifications:
Model Name

RM5502K

RM6502K

RM7502K

Panel

Screen Size

55"

65"

75"

Backlight / Lightsource

DLED

DLED

DLED

Resolution (Pixels)

UHD 3840x2160

UHD 3840x2160

UHD 3840x2160

Brightness (Typical)

350

350

350

Contrast Ratio (Typical)

5,000:1

1,200:1

1,100:1

Viewing Angle (Horizontal/Vertical)

178° / 178°

178° / 178°

178° / 178°

Response Time (ms)

8.5

8

8

Panel Bit (bit)

8

8

10

Light Life (Typical) (hours)

30,000

30,000

30,000

Power

Voltage

100V-240V, 50/60Hz

100V-240V, 50/60Hz

100V-240V, 50/60Hz

Typical (watt)

TBC

TBC

320

Touch

Touch Technology

IR Touch

IR Touch

IR Touch

Numbers of Touch

Up to 20 Point Multi-touch

Up to 20 Point Multi-touch

Up to 20 Point Multi-touch

Resolution (Points Area Function)

32,767*32,767

32,767*32,767

32,767*32,767

Touch Interface

x2 (USB type B)

x2 (USB type B)

x2 (USB type B)

OS Supported

3mm,Tempered Glass

4mm,Tempered Glass

4mm,Tempered Glass

Glass

Tempered Glass

Yes

Yes

Yes

Anti-Glare (AG) Coating

16Wx2

16Wx2

16Wx2

Audio

Internal Speaker

N/A

N/A

N/A

Internal Microphone

x1

x1

x1

Audio In

N/A

N/A

N/A

SPDIF

x1

x1

x1

I/O

Power (AC) Input

x1

x1

x1

Power Switch

x1

x1

x1

VGA Input

x3 (2.0x3)

x3 (2.0x3)

x3 (2.0x3)

HDMI Input

x1

x1

x1

HDMI Output

x1

x1

x1

OPS Slot

x5 (2.0x2, 3.0x3)

x5 (2.0x2, 3.0x3)

x5 (2.0x2, 3.0x3)

USB Port

x1

x1

x1

Control

RS232 Input

x1

x1

x1

RJ45 Port

USB / OTA

USB / OTA

USB / OTA

Firmware Update

TBC

TBC

TBC

Mechanical

Weight (Without / With Packing) (kg)

1268.1*814.5*115.6

1488.6*938.5*115.6

1709.4*1062.0*115.8

Dimension (WxHxD) (mm)

4 holes (400 × 200mm) Screw M8 x 25mm

4 holes (600 × 400mm) Screw M8 x 25mm

4 holes (800 x 600mm) Screw M8 x 25mm

Wall Mounting (VESA)

x2

x2

x2

Handle

x1

x1

x1

Pen Tray

x1

x1

x1

OSD

On-Screen Display Languages

English / French / German / Dutch / Polish / Russian / Czech / Danish / Swedish / Italian / Romanian / Finnish / Norwegian / Greek / Hungarian / Spanish / Portuguese / Traditional Chinese / Simplified Chinese / Arabic / Japanese / Thai / Persian / Vietnamese / Korean (25L)

Package / Accessory

Remote Controller

TBC

TBC

TBC

Power Cord (By Region)

x 1 (5m)

x 1 (5m)

x 1 (5m)

VGA Cable

x 1 (1.5m)

x 1 (1.5m)

x 1 (1.5m)

HDMI Cable

x1

x1

x1

Quick Start Guide

x1

x1

x1

User's Manual Electronic File

x 1 (3m)

x 1 (3m)

x 1 (3m)

USB Cable for Touch

x1

x1

x1

Touch Pen (Stylus)

x2

x2

x2
Pricing Notes:
Pricing and product availability subject to change without notice.
BenQ Products
Interactive Flat Panel
BenQ RM7502K
75" Interactive Flat Panel"
#RM7502K
List Price:
$5,699.00
Our Price: $3,082.86