BenQ MS504A

The Best Value Choice for a Small-Medium Space
Overview:
Featuring a brightness of 3200 ANSI Lumens and a high contrast ratio of 13000:1, the cost-effective and eco-friendly MS504A delivers bright, crystal clear presentations with large, easy to read text, graphics and video with rich, vibrant, accurate colors, even under the most challenging ambient light conditions.
Key Features
Native SVGA (800x600) Resolution
3,200 ANSI Lumens; 13,000:1 Contrast Ratio
Up to 10,000 Hours Long Lamp Life
SmartEco™ Power Saving Technology
PC 3D-Ready
Features:
SmartEco™ Lamp Saving Technology
Incorporating BenQ's renowned SmartEco Lamp Saving Technology, the MS504A not only offers greater energy savings to you, but continues to deliver amazing picture quality through this innovative technology. The SmartEco mode is designed to use only the exact amount of lamp power a projector needs to deliver the best contrast performance. With this feature, schools get to provide students and teachers uncompromised projection quality and reduce the total cost of ownership by extending the lamp life and lowering power consumption.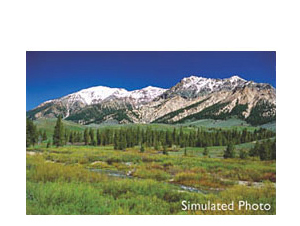 Normal Mode
296W Projector Power Comsumption by Average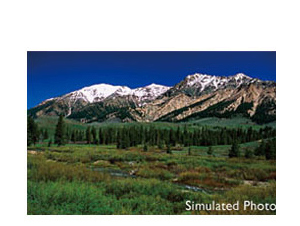 SmartEco Mode
Enhanced Details in Darkened Scenes
163W Projector Power Comsumtion by Average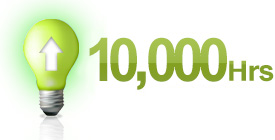 SmartEco Lamp
Within the SmartEco Lamp Saving Technology umbrella, Lamp Care mode takes your dollars further—much further by offering an astonishing lamp life of up to 10,000 hours!
No Source Detected Feature
There will be times when a projector is turned on without a display source, such as a classroom PC or notebook. To avoid a projector from running with full lamp power, BenQ created the No Source Detected feature to lower the projector lamp brightness to 30% after the projector has remained unconnected to a display source for more than three minutes.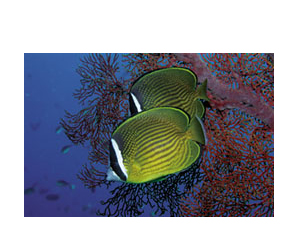 Source Detected
100% Lamp Power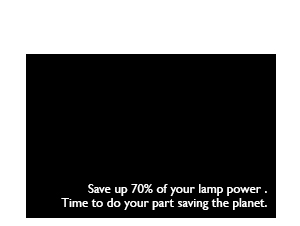 No Source Detected
30% Lamp Power
0.5W in Standby Mode
When inactive, the MS504A keeps power consumption down to a minimum of 0.5W power, further lowering your total cost of ownership.
Audio Pass Through
The built-in speaker on the MS504 can be used as an audio system when it's on standby mode. This saves you the trouble as well as the extra budget for getting a separate audio system.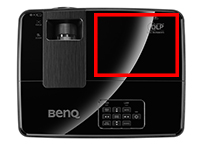 Hassle-Free Projector Maintenance Upper Lamp Door for Easy Lamp Access
The upper lamp door is designed for IT managers to replace the projector lamp safely and quickly. Should the projector lamp go out while in use, it can be replaced quickly minimizing disruptions.
Teaching Template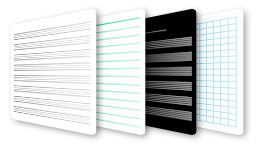 To make your teaching job easier, BenQ has added the teaching template function to the MS504A. With four different pattern designs to choose from - Letter Formation, Musical Staff, Worksheet and Coordinate Chart, you can enhance your boardroom or classroom learning experience.
BenQ DLP® Projectors︱ Long-Lasting Image Perfection with DLP Technology
Timeless Image Quality:
Colorific™ Technology Delivers Lifelike Color, Year After Year
BenQ uses Colorific technology to optimize images for specific color balance effects for diverse applications such as presentations, movies and spreadsheets and photographs. Every BenQ Colorific projector generates more than one billion colors by combining up to seven different colors to create vibrant, true-to-life images. You will also experience dramatic contrasts for remarkable image clarity, higher visual impact and greater legibility. BenQ's Colorific projectors are dependable year after year. You can rely on the colors to remain the same from day one to a decade later--without the risk of fading, ghosted images, or yellowing.
Accurate. Over 1 billion colors - compared to 16.7 million as on many LCD projectors
Crisp. Bright, high contrast picture - 3x more contrast than similar top-selling LCD models
Long-Lasting. Consistent image quality - image is the same now and years from now
Non-DLP Projector



Original Color, After 2000 Hours of Use, After New Lamp Installed
BenQ DLP Projector



Original Color, After 2000 Hours of Use, After New Lamp Installed
DLP Technology also includes a filter-free engine design for carefree confidence in long-lasting image quality and reduced TCO. BenQ's SmartEco™ Technology further boosts contrast performance and image quality endurance while saving up to 70% on lamp power consumption.
ecoFACTS Label
ecoFacts can tell you how eco-friendly BenQ products are! Development of eco-friendly products, BenQ doesn't just want to comply with green regulations passively, but also to actively develop eco-friendly products!
ecoFacts declares BenQ's greatest efforts on the replacement of hazardous substances, material selection, packaging design, energy-saving design, and other aspects of the product.
Specifications: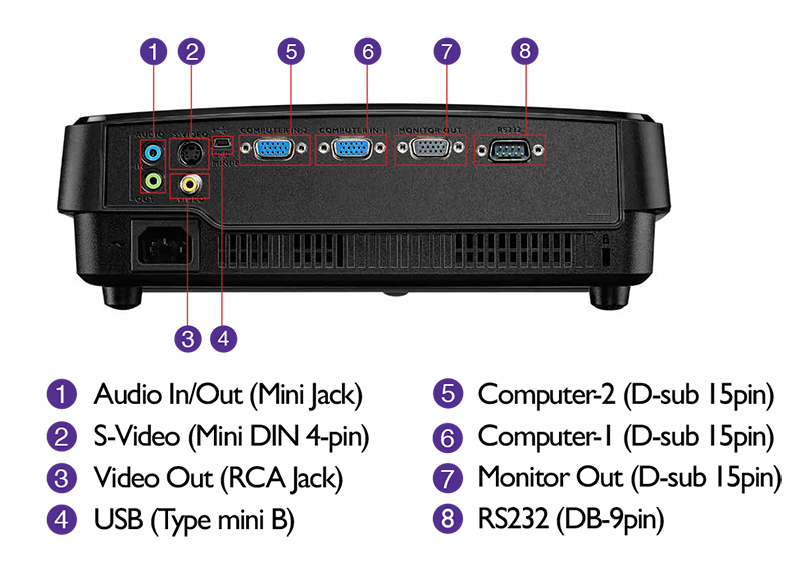 BenQ MS504A Specifications
Projection System
DLP
Native Resolution
SVGA(800 x 600)
Brightness
3,200 ANSI lumens
Contrast Ratio
13,000:1
Display Color
1.07 Billion Colors
Lens
F=2.56-2.8, f=21-23.1mm
Aspect Ratio
Native 4:3 (5 aspect ratio selectable)
Throw Ratio
1.86-2.04 (53"@2m)
Image Size (Diagonal)
30"-300"
Zoom Ratio
1.1:1
Lamp Type
190W
Keystone Adjustment
1D, Vertical ± 40 degrees
Normal/Eco/SmartEco/SmartEco Lamp Care)
4000/6000/6500/10000 hours
Keystone Adjustment
1D, Vertical +/- 40 degrees
Projection Offset
120% ±5%
Resolution Support
VGA(640 x 480) to UXGA(1600 x 1200)
Horizontal Frequency
15~102KHz
Vertical Scan Rate
23~120Hz
Compatibility
HDTV Compatibility: 480i, 480p, 576i, 576p, 720p, 1080i, 1080p
Video Compatibility: NTSC, PAL, SECAM
Interface
Computer in (D-sub 15pin) x 2 (Share with component)
Monitor out (D-sub 15pin) x 1
Composite Video in (RCA) x 1
S-Video in (Mini DIN 4pin) x 1
Audio in (Mini Jack) x 1
Audio out (Mini Jack) x 1
Speaker 2W x 1
USB (Type mini B) x 1 (Download & UBS display)
RS232 (DB-9pin) x 1
IR Receiver x 1 (Front)
Dimensions (WxHxD)
11.1" x 3.7" x 8.7" (w/ feet)
Weight
3.96lbs (1.8kg)
Power Supply
AC100 to 240 V, 50 to 60 Hz
Power Consumption
270W(Normal), 220W (Eco), Standby<0.5W"
Audible Noise
32/28 dBA (Normal/Economic mode)
On-Screen Display Languages
Arabic/Bulgarian/ Croatian/ Czech/ Danish/ Dutch/ English/ Finnish/ French/ German/ Greek/ Hindi/ Hungarian/ Italian/ Indonesian/ Japanese/ Korean/ Norwegian/ Polish/ Portuguese/ Romanian/ Russian/ Simplified Chinese/Spanish/ Swedish/ Turkish/ Thai/ Traditional Chinese (28 Languages)
Picture Mode
Dynamic/Presentation/sRGB/Cinema/User 1/User 2
Accessories (Standard)
Remote Control w/ Battery, Power Cord, Quick Start Guide, Warranty Card, VGA (D-sub 15 pin) Cable
Accessories (Optional)
Spare Lamp Kit P/N: 5J.J9R05.001
Ceiling Mount P/N: 5J.J4N10.001
3D Glasses P/N: 5J.J7L25.002
Carry Bag P/N: 5J.J4R09.001
UPC Code/Part #
8400460-2880-0 / 9H.JA477.13A
Limited Warranty
1 Year Parts & Labor / 1 Year or 2000 Hours of Lamp Life
*Lamp life results will vary depending on environmental conditions and usage. Actual product's features and specifications are subject to change without notice.
Distance Chart:

Screen Size
Distance from screen (inch)
Vertical offset (inch)
Diagonal
W (inch)
H (inch)
Min length
Average
Min length
Inch
mm
(Max zoom)
(Max zoom)
30
762
24
18
44.6
46.8
49.1
1.81
40
1016
32
24
59.4
62.4
65.3
2.4
50
1270
40
30
74.3
77.9
81.6
2.9
60
1524
48
36
89.1
93.5
98.1
3.6
80
2032
64
48
118.8
124.8
130.7
4.8
100
2540
80
60
148.5
155.9
163.4
5.9
120
3048
96
72
178.2
187.2
196.1
7.2
150
3810
120
90
222.8
233.9
245.1
9.0
200
5080
160
120
297.1
312.0
326.8
12.0
220
5588
176
132
326.8
343.2
359.5
13.2
250
6350
200
150
371.4
390.1
408.5
15.0
300
7620
240
180
445.7
467.9
490.2
17.9
Ceiling Mount Chart:

Units: inch
Pricing Notes:
Pricing and product availability subject to change without notice.
BenQ Products
Projectors
MS504A 3D Ready DLP Projector
#MS504A
List Price:
$429.00
Our Price: $345.00