BenQ BL2711U

World's first 27" 4K2K ultra-high-definition (UHD) resolution monitor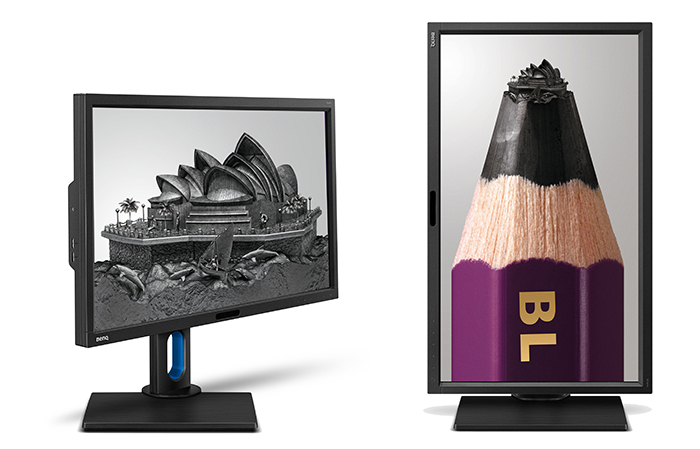 BL2711U 27" 4K2K ultra-high-definition (UHD) resolution monitor"
#BL2711U
Get a Quote!
Overview:
The BL2711U, world's first 27" 4K2K ultra-high-definition (UHD) resolution monitor with built-in 100% sRGB, IPS technology and exclusive CAD/CAM, animation and low blue light modes for designers to improve design efficiency.
Key Features
27"W IPS Panel, 4K2K Resolution
100% sRGB Color Coverage
20M:1 Dynamic Contrast Ratio
CAD/CAM and Animation Mode
Two built-in speakers
Height Adjustable Stand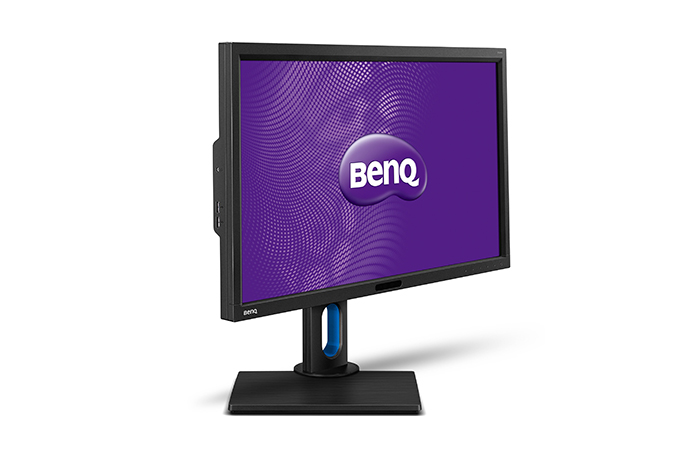 Features:
Professional Monitors Engineered for Design Precision
27" 4K UHD Monitor
Designed to meet the rising demands for large-sized viewing and ultra-high definition, the BL2711U boasts a 27"W 4K2K display built with BenQ's advanced IPS technology, providing professionals in CAD/CAM, animation, video editing and graphic arts ultra-precise color rendition and over 300% working space to enhance their work efficiency and productivity.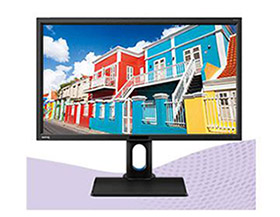 100% sRGB with IPS Technology
Every color is delivered with the finest precision in every detail and at every possible viewing angle for a great viewing experience. With a 10-bit panel that renders more than one billion hues, every image is displayed with the richest, liveliest colors.
178°/178° Ultra-Wide-Viewing Angles: For a faithful visual display of truly authentic colors and details from virtually any perspective – left, right, above and below.
100% sRGB with Ultra-Vivid IPS Technology: For images that exceed the color performance of standard 72% NTSC monitors with exceptionally rich hues and vibrant tones.
Color Shift-Free Display: For the most consistent color definition with reduced visibility of color shift between normal and oblique viewing angles.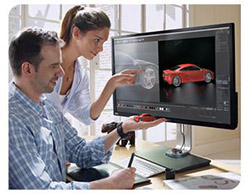 For Those Who Have A Keen Eye for Detail and Precision
CAD/CAM
Professional CAD/CAM engineers and designers work with extremely detailed information, making superb display clarity and color accuracy absolutely vital for ensuring design precision. BenQ's BL Series offers a number of display solutions for maximized display performance, including the CAD/CAM Mode to bring out even the smallest details to view for Pro/E, SolidWorks, AutoCad, CATIA or other CAD/CAM software. Recognizing the multi-tasking and collaborative nature of the work, thoughtful features that support a wide range of viewing options are included to ensure high productivity can be preserved while users run a number of tasks simultaneously or compare and discuss design work with colleagues.
CAD/CAM Mode
For clearly distinguished details in complicated object wireframes, switch on the CAD/CAM Mode to alter the monitor's color and contrast settings to view highly detailed graphic information without ever missing a line again.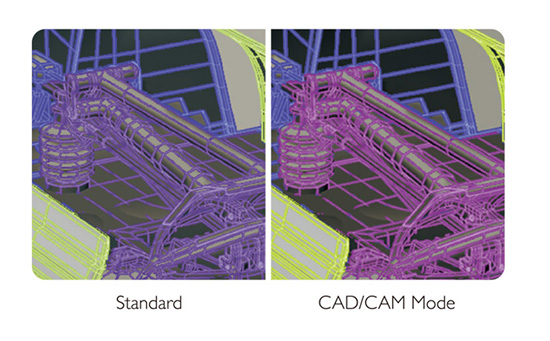 SolidWorks Certification
SolidWorks Certification Being a Solidworks Solution partner translates to display excellence certified to be of professional standard for CAD/CAM software users.
ANIMATION
Professional animators work to breathe life into moving art, making even the tiniest detail paramount to delivering lively creations. To answer the visual demands of the most sophisticated animators, BenQ BL Series monitors give you uncompromising accuracy consistency for displaying every shade of colors through a wide range of optimized image calibration settings, including the brightness-enhancing Animation Mode. There is also a multitude of viewing features incorporated into the monitors to simultaneously display all the information needed for making color adjustments. So no detail can escape the eyes of its creator!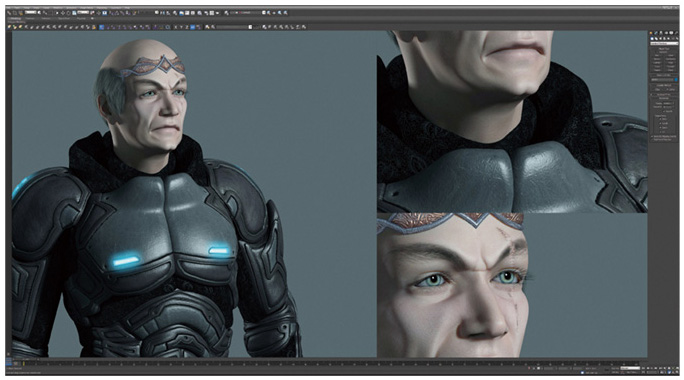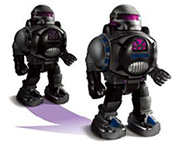 Animation Mode
To make distinguishing detailed textures in darkened areas easier, BenQ developed the Animation Mode to enhance the brightness in dark areas of the artwork – without overexposing bright areas. This allows animators to fine-tune their animation creation effortlessly.
10-Level Animation Mode Adjustment
10 levels of display brightness adjustment reveal details in darkened areas for the most precise design.

VIDEO EDITING
Color accuracy and a clear line of view are of utmost importance for anyone working in the field of professional video editing. BenQ BL Series offers a wonderful range of 100% sRGB monitor with a resolution of QHD and 4K2K UHD to give you crisp and clear viewing quality accompanied by true, lifelike colors. The large viewing space combined with optimal viewing prevision give video editors full access to all the editing tools, applications and images they need to work with. So they can perform every task with maximized efficiency.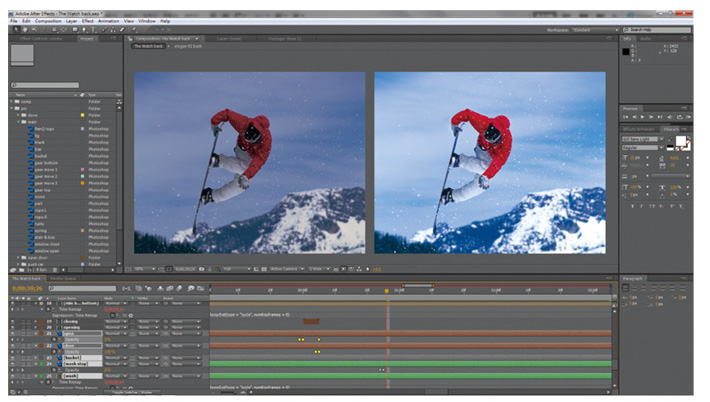 REC. 709 Optimal Color Precision
A selection of BL Series monitors are built to cover REC. 709 color space, which is well known as the standard format for HDTVs. A native REC. 709 color gamut ensures that every color is faithfully represented with optimal precision.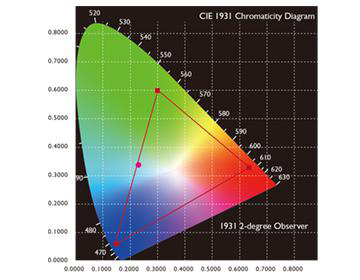 GRAPHIC ARTS
A high-quality monitor with high resolution, high color accuracy and fidelity and a wide range of high-speed connectivity options is what makes a perfect companion for professionals in the graphic arts industry, including graphic designers, retouchers and photographers. Featuring the highest resolution at 3840x2160 4K2K with 100% sRGB and BenQ's advanced IPS technology, the BL Series showcases consistent, reliable color results with every detail precisely rendered for a brilliant viewing experience from virtually every perspective. A variety of connectivity and view options also enables users to work with multiple devices and perform complex multi-tasking work with ease.
Ultra-High-Definition Resolution
A 3840x2160 4K2K ultra-high-definition (UHD) resolution offers over 300% working space comparing with 1920x1080 FHD - and the highest PPI for the most detailed on-screen viewing quality.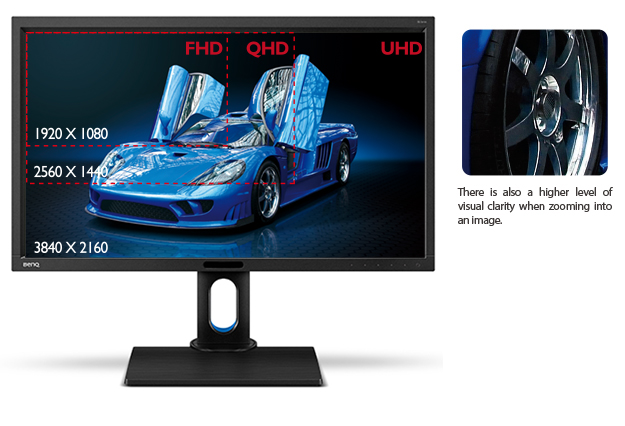 Thoughtfully Designed - Do More with Your Large-Sized Display
Picture-in-Picture (PIP) & Picture-by-Picture (PBP)
For enhanced convenience and productivity, the PIP/PBP feature allows you to compare two or more pictures as well as display drawings from two PCs simultaneously for a more efficient work discussion.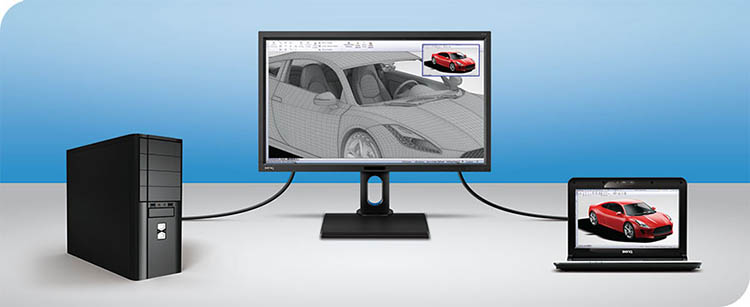 Desktop Partition
With the aid of BenQ's Display Pilot software can be displayed at once with your desired proportions to enable better multitasking. *Display Pilot Software and Windows OS required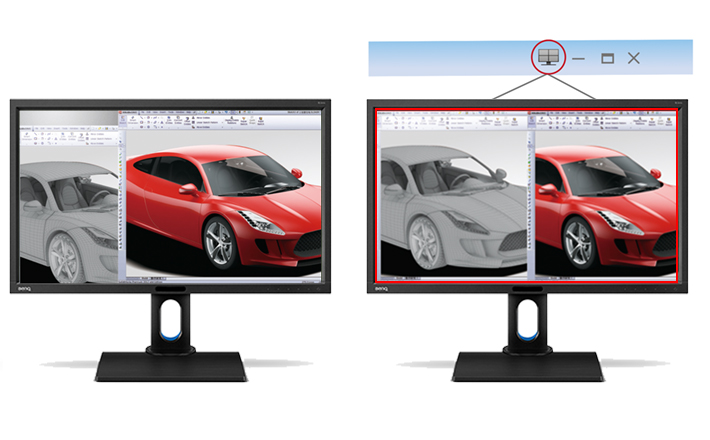 One-Stop Set-up - Optimal Viewing with Tailored Display Settings
BenQ Display Pilot Software
The Display Pilot software is a total solution package for designers seeking to customize their display. You can assign specific color modes to frequently used software applications on your computer with Application Tuning, and Display Pilot software will automatically apply the preset color mode to the matching software application in use. Other features that can also be accessed through Display Pilot include Auto Pivot, Desktop Partition, PIP/PBP and other OSD settings such as brightness adjustments. *Windows OS required
Ergonomics at Work - For Maximized Design Convenience & Comfort
Ergo Monitor – With Height Adjustable Stand (HAS)
An extensive range of monitor adjustments – height, tilt, pivot, stroke and swivel – tailor your own unique working station that is best suited for your height and viewing habits with a maximum 150mm distance between the screen bottom and the base.

Auto-Pivot
Auto Pivot detects the movement of the monitor and dynamically rotates the contents displayed for flexible landscape or vertical viewing without utilizing Windows or graphic card settings.
*Display Pilot Software required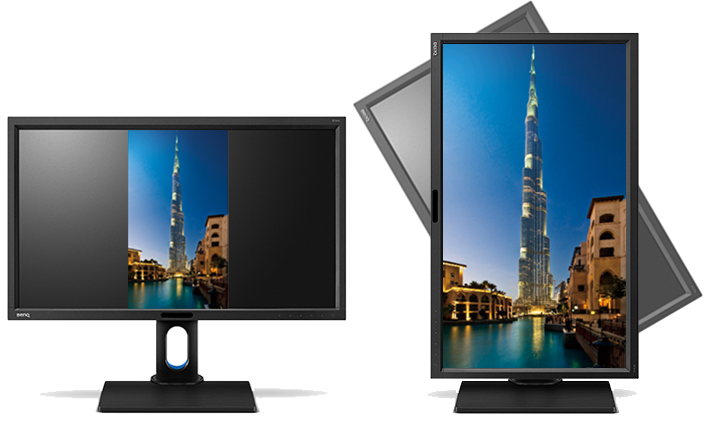 Eye-care Protection - Because Your Eye Health Matters

BenQ Proprietary ZeroFlicker™Technology
The BL Series are newly upgraded with the incorporation of BenQ's proprietary ZeroFlicker™ Technology to eliminate backlight flickering at all brightness levels and effectively reduce eye fatigue. Conventional LCD screens flickers 200 times per second. The flickers may not be detectable by your eyes but they can certainly feel the flickering. So it is important to relieve your eyes from the stress caused by a flickering screen – and keep them nice and fresh when you are working on new designs.

Exclusive Low Blue Light Modes
Every monitor produces a strain of blue spectrum light that some have associated with the possibility of leading to , eyestrain, headaches and sleeping disorders. BenQ has been working to o reduce blue light exposure and allow more productive time spent in front of the computer, BenQ's monitor now features four preset Low Blue Light Modes via its exclusive Low Blue Light technology.
Accessible from the OSD hot key, the Low Blue Light Modes include:
Multimedia Mode (30% Blue Light Reduction) to maintain the highest image quality and sufficient blue light reduction while displaying photos, videos, animation and other media.
Web-surfing Mode (50% Blue Light Reduction) to optimize the experience of reading web pages.
Office Mode (60% Blue Light Reduction) to ensure better eye health and comfort while boosting productivity for word processing, emailing and other everyday office tasks.
Reading Mode (70% Blue Light Reduction) to simulate the look of real paper for ebooks, long documents, or any other type of reading material that requires the user's full attention for long periods of time.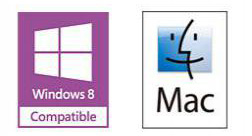 Windows 8 and Windows 7 compatible
Mac compatible
Specifications:
BenQ BL2711U Specifications
Panel
Color Depth
10bits
Back Light Unit
LED
Screen Size
27"
Aspect Ratio
16:9
Resolution (max.)
3840x2160at 60Hz(DP, HDMI-2)
3840x2160at 30Hz(DVI, HDMI-1)
Display Area(mm)
596.16x335.34
Pixel Pitch (mm)
0.155
Brightness (typ.)
300 cd/㎡
Native Contrast ( typ. )
1000:1
DCR (Dynamic Contrast Ratio) (typ.)
20M:1
Panel Type
IPS technology
Viewing Angle (L/R;U/D) (CR>=10)
178/178
Response Time(Tr+Tf) typ.
12ms, 4ms (GtG)
Display Colors
1.07 Bil.
Color Gamut
100% sRGB
Regulations
TCO
TCO 6.0
Audio/Video Inputs/Outputs
Input Connector
DVI-DL / HDMI1.4 / HDMI2.0 / DP1.2 / headphone jack / line in
Speaker
3Wx2
Dimensions & Weight
Dimensions(HxWxD mm)
H:550.62X639X239.65
L:410.72X639X239.65
Dimensions with Wall Mount (HxWxD mm)
384.95X639X69.75
Net Weight (kg)
8
Gross Weight (kg)
11
Power
Power Consumption (On mode)
42W
Power Consumption (Off mode)
0.5W
Special Features
AC Switch
Yes
Auto Pivot
Yes
Animation mode
Yes
CADCAM mode
Yes
ZeroFlicker Technology
Yes
Senseye®
Senseye 3
Windows® 7 Compatible
Yes
Windows® 8 Compatible
Yes
HDCP
Yes
Color Temperature
Reddish / Normal/ Bluish /user mode
VESA Wall Mounting
100x100mm
Swivel (left/right)
45 / 45
USB Hub
USB3.0*2(Side) / USB 3.0*2 (Rear)
Tilt (down/up)
-5~20
Pivot
90°
Height Adjustment (mm)
140mm
PIP/PBP
Yes
Low Blue Light
Yes
Windows® 8.1 Compatible
Yes
K Locker
Yes
Mac Compatible
Yes
Included Accessories
EnergyStar
6.0
Pricing Notes:
Pricing and product availability subject to change without notice.
BenQ Products
Monitors
BL2711U 27" 4K2K ultra-high-definition (UHD) resolution monitor"
#BL2711U
Get a Quote!