BenQ MW769

Projection Perfect for All Medium Sized Rooms
Overview:
The BenQ MW769 is just the projector you need to perfect your presentation in all medium-sized rooms. The MW769 features WXGA resolution with 4200 ANSI lumen brightness, 13000:1 high contrast ratio, and a 1.5x big zoom, which makes installation more flexible and keeps your presentation lookin' great!
Key Features
World-Leading SmartEco Technology
4200 ANSI Lumens
13000:1 High Contrast Ratio
1.5x Big Zoom Ratio for Installation Flexibility
Blu-ray Full HD 3D Supported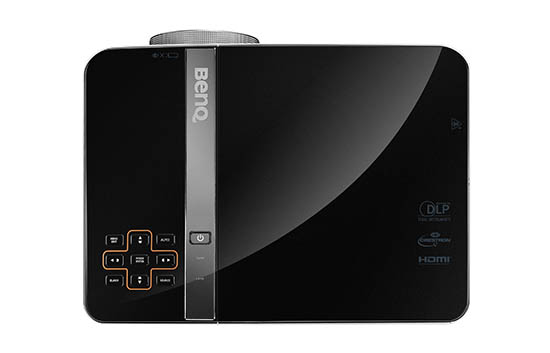 Features:
Saving More on Power Consumption with BenQ's SmartEco™ Technology
The MW769 offers lower Total Cost of Ownership (TCO) and optimized projection through dynamic power saving, uncompromised brightness, exquisite picture quality and optimized lamp life. SmartEcoTechnology has perfected what a DLP projector can do. With this innovation, schools and corporations are able to save up to 70% of lamp power consumption and lower maintenance costs through dynamic power saving features while bringing an ultra-vivid viewing experience into every presentation.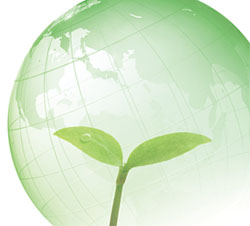 SmartEco Mode
The SmartEco Mode, which cleverly adjusts the lamp power to maximize power saving by delivering the best contrast and brightness performance using only as much light as needed.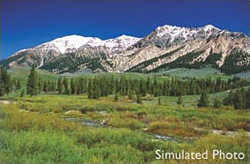 Normal Mode
296W Projector Power
Consumption
by Average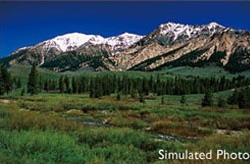 SmartEco Mode
Enhanced Details in Darkened Scenes
163W Projector Power Consumption
by Average
(Source: 2010 Philips white paper)
Eco Blank Mode
The Eco Blank mode allows teachers to blank the projection screen whenever they need to direct their students' focus back on them – or simply when the projector is not in use. When activated, this special feature dims the lamp power automatically, lowering the total power consumption by 70%.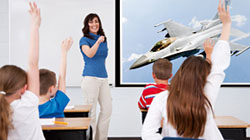 Full Power On
100% Lamp Power
Attention on the Projection
Screen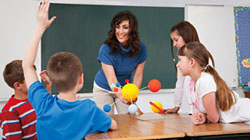 Eco Blank Mode On
30% Lamp Power at the Lowest
Attention on the Class
Instructor
No Source Detected Mode
The projector automatically switches to Eco Blank Mode within three minutes after it is turned on and no input source is detected. This eliminates unnecessary energy waste and prolongs the life of the projector lamp.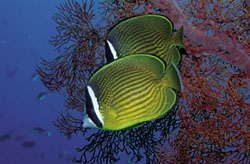 Source Detected
100% Lamp Power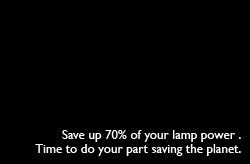 No Source Detected
30% Lamp Power
0.5W in Standby Mode
When inactive, the MW769 keeps power consumption to a minimum with 0.5W standby power, achieving what was once a challenge for earlier projector models. This advancement in energy saving technology significantly helps extend the projector lamp life and lowers energy costs.
Diversified Options for Control and Management
Big Zoom for Extra Projector Installation Flexibility
The MW769's 1.5x big zoom feature opens up space with an impressively wide range of throw distances. All you have to do is simply place the new projector right where your original ceiling mount is. Without adding projector installation re-construction costs to your budget list, you'll get to save the money for better use.

2D Keystone Correction
When the projector is placed off center, the 2D keystone correction feature gives you wider projector installation flexibility by correcting the trapezoid effect using horizontal and vertical adjustments.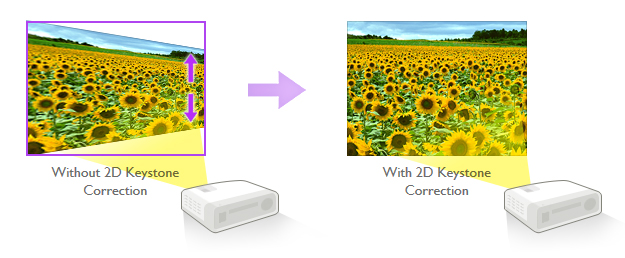 Corner Fit Correction
Corner Fit is a flexible and convenient way to correct picture dimensions by adjusting each corner of an image independently.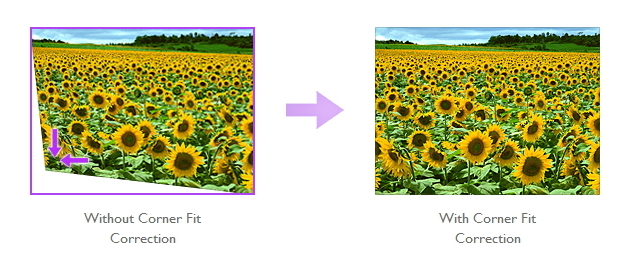 Surface Fit Correction
Featured in selected BenQ projectors, Surface Fit is designed to support projection on non-standard surfaces, such as concave and convex surfaces, offering you more projection possibilities.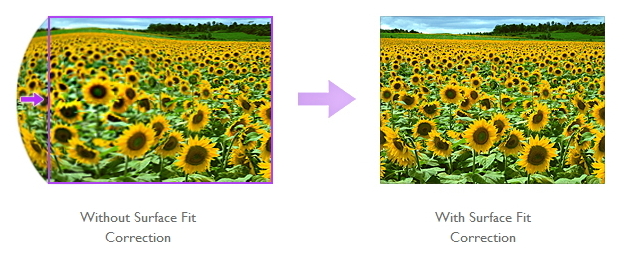 LAN Control with Crestron and PJ-Link
LAN Control is designed to help IT managers perform day-to-day projector maintenance and repair tasks efficiently and effectively – offering them full access and control over every projector directly from their workstations. The MW769 offers seamless support for the Crestron and PJ-Link LAN Control systems.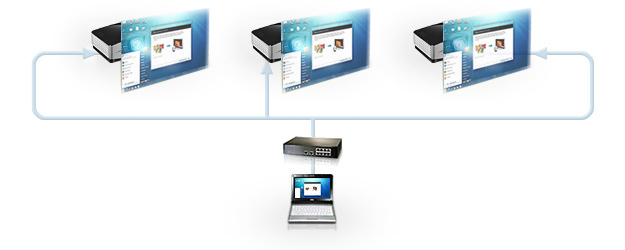 Blu-ray Full HD 3D Support
Supports Various 3D Formats
The MW769 comes standard-equipped with DLP Link™-supported 3D projection to offer the same amazing 3D effects as seen in 3D movie theaters. The 3D formats supported by the MW769 are 3D field-sequential, 3D frame packing, 3D top-and-bottom and 3D side-by-side. This incredible projector can be connected to a Blu-ray DVD player for even more stunning visual quality.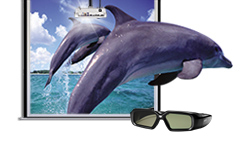 Various 3D Formats Supported:
| | | | | |
| --- | --- | --- | --- | --- |
| Source / format | 3D Field Sequential | 3D frame packing | 3D top bottom | 3D side by side |
| D SUB-PC | V |   | V | V |
| HDMI-PC | V |   | V | V |
| HDMI-Video | V | V | V | V |
| S-video | V |   |   |   |
| Video | V |   |   |   |
Hassle-free Projector Maintenance
Upper lamp door for easy lamp access
The upper lamp door is designed for IT managers to be able to replace the projector lamp safely and quickly. Should the projector lamp go out in the middle of class, it can be replaced without major teaching delays.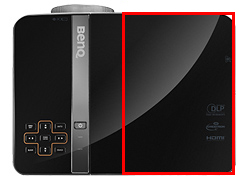 Thoughful Designs
Instant Restart
The Instant Restart feature gives teachers a 90-second window to turn the projector back on immediately when it has been switched off by accident – no waiting necessary.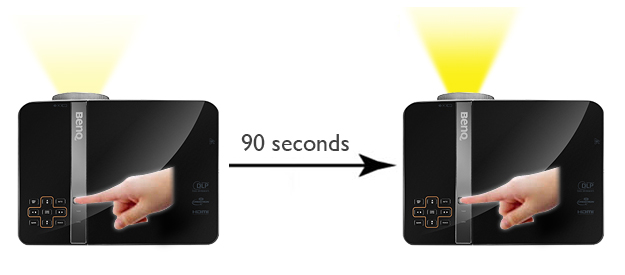 LAN Display
Through a single LAN cable to control and display projections, LAN Display offers a cost-effective solution for projector implementation management. This feature also offers simultaneous 4-1 or partial projection display options for better content management for discussions, presentations, training and classroom teaching.

Microphone Input Support
With the microphone input, you will no longer need to shout to get the attention of your audience. All you need to do is plug in a microphone or microphone headset to get your point across!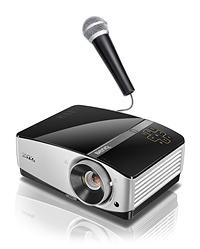 ecoFACTS Label
ecoFACTS can tell you how eco-friendly BenQ products are!
Development of eco-friendly products, BenQ doesn't just want to comply with green regulations passively, but also to actively develop eco-friendly products!
ecoFACTS declares BenQ's greatest efforts on the replacement of hazardous substances, material selection, packaging design, energy-saving design and other aspects of the products.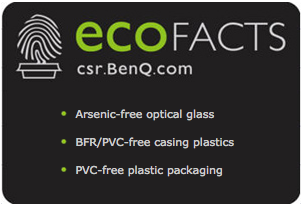 Specifications: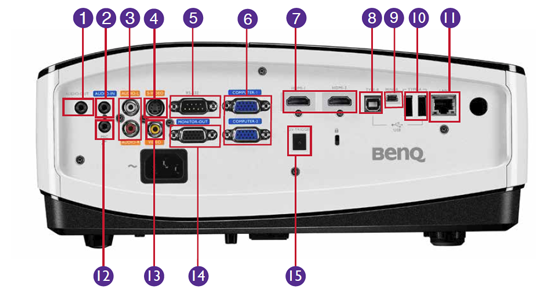 Audio out (Mini Jack)
Audio in (Mini Jack)
Audio in (L/R)
S-Video In (Mini DIN 4pin)
RS232 (DB-9pin)
Computer in 1 & 2 (D-sub 15pin)
HDMI x 2
USB (Type B)
USB (Type Mini B)
USB (Type A) x 2
LAN
Microphone in(Mini jack)
Composite Video in (RCA)
Monitor Out (D-sub 15pin)
DC 12V Trigger
BenQ MW769 Specifications
Projection System
DLP
Native Resolution
WXGA(1280x800)
Brightness* (ANSI Lumens)
4200 ANSI Lumen
Contrast Ratio
13000:1
Display Color
1.07 Billion Colors
Lens
F=2.42~2.97, f=20.7~31.05mm
Aspect Ratio
Native 16:10 (5 aspect ratio selectable)
Throw Ratio
1.45~2.17
Image Size (Diagonal)
31" ~ 300"
Zoom Ratio
1.5x
Lamp Type
310W
Keystone Adjustment
2D, V +/- 30 degree, H +/- 25 degree
Projection Offset
Vertical: 125% ±5%
Resolution Support
VGA(640 x 480) to UXGA(1600 x 1200)
Horizontal Frequency
15K-102KHz
Vertical Scan Rate
23-120Hz
Dimensions (W x H x D mm)
329x137.2x248.7mm (include feet)
329x127.2x248.7mm (exclude feet)

HDTV Compatibility
480i, 480p, 576i, 576p, 720p, 1080i, 1080p
Video Compatibility
NTSC, PAL, SECAM
3D Support and Compatibility
Frame Sequential: Up to 60Hz 720p
Frame Packing: Up to 24 Hz 1080p
Side by Side: Up to 24Hz 1080p
Top Bottom: Up to 60Hz 1080p
Weight
8.6 lbs(3.9 Kg)
Audible Noise (Normal/Economic Mode)
36/34 dBA (Normal/Economic mode)
Power Supply
AC100 to 240V, 4.2A, 50 to 60 Hz
Power Consumption
400W(Normal), 340W(Eco), Standby<0.5W
On-Screen Display Languages
Arabic/Bulgarian/ Croatian/ Czech/ Danish/ Dutch/ English/ Finnish/ French/ German/ Greek/ Hindi/ Hungarian/ Italian/ Indonesian/ Japanese/ Korean/ Norwegian/ Polish/ Portuguese/ Romanian/ Russian/ Simplified Chinese/Spanish/ Swedish/ Turkish/ Thai/ Traditional Chinese (28 Languages)
Picture Modes
Dynamic / Presentation / sRGB / Cinema / (3D) / User 1 / User 2
Accessories (Standard)
Carry bag
Power Cord (by region)
Remote Control w Battery
VGA cable
User Manual CD
QSG
Lens Cover
Warranty Card (by region)
Accessories (Optional)
Spare Lamp Kit
Ceiling mount kit
*Lamp life results will vary depending on environmental conditions and usage. Actual product's features and specifications are subject to change without notice.
Distance Chart: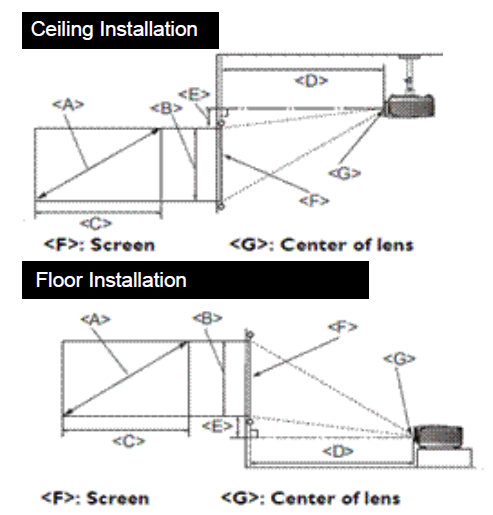 Screen Size
Distance from screen (inch)
Vertical offset (inch)
Diagonal
W (inch)
H (inch)
Min length
Average
Min length
Inch
mm
(Max zoom)
(Max zoom)
30
762
25.4
15.9
36.8
46.1
55.2
1.9
40
1016
33.9
21.2
49.1
61.3
73.6
2.6
60
1524
50.8
31.8
73.7
92.1
110.4
3.9
80
2032
67.8
42.4
98.4
122.7
147.2
5.3
100
2540
84.8
52.9
122.9
153.5
184.0
6.6
150
3810
127.2
79.4
184.4
230.2
276.2
9.9
200
5080
169.6
105.9
245.9
306.9
368.0
13.2
250
6350
212.0
132.4
307.4
383.7
460.0
16.5
Ceiling Mount Chart:
Ceiling Mount Screws: M4
(Max. L = 25 mm; Min L + 20mm )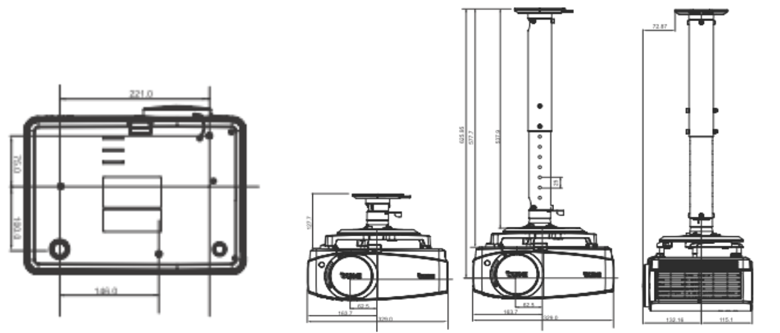 Units: mm
Pricing Notes:
Pricing and product availability subject to change without notice.
BenQ Products
Projectors
MW769 WXGA 4200 ANSI Lumens Dual HDMI
#MW769
List Price:
$2,399.00
Our Price: $999.00