BenQ HT3050

Full HD 1080p Home Theater Projector with Rec. 709 Cinematic Colors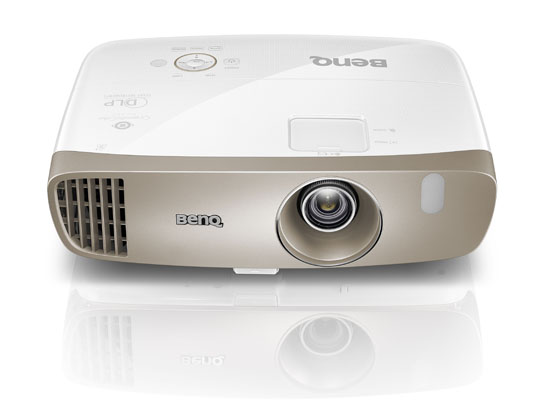 BenQ HT3050 HD Home Theater Projector with Rec. 709 Cinematic Colors
#HT3050
List Price: $1,399.00
Our Price: $1,106.00
Overview:
The BenQ Colorific HT3050 elevates the home cinema experience to a whole new level, thanks to BenQ technology that achieves the Rec. 709 cinematic color reproduction, delivering the exact color palette used by Hollywood studios to master movies and TV programs.
Key Features
Rec. 709 color enables the projector to reproduce the exact color palette used by Hollywood studios to master movies and TV programs
15,000:1 contrast for incredible detail, black blacks and whites that are vibrant and clear
All-glass, cinema grade lens with low dispersion coatings for sharper, crisper video with no chromatic aberration
Lens shift for maximum installation flexibility
Whisper quiet operation, allows viewers to hear the movie, not the projector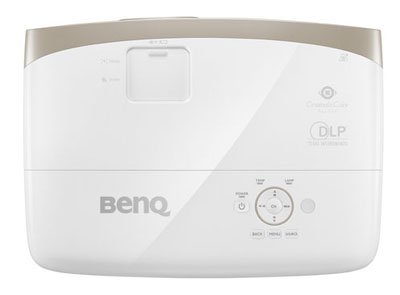 Features:
Cinematic Color as Big as Life in Your Own Living Room
Featuring Rec. 709 cinematic color reproduction, the HT3050 elevates the home theater experience to a whole new level. With a stunning 2000 ANSI lumens bright image and remarkable 15,000:1 contrast ratio, using an all-new optical system design the HT3050 delivers a razor sharp, crystal clear image with rich shadow detail and vibrant, saturated colors for natural looking skin tones and a precise true-to-life color palette to meet Rec. 709 specifications.
Breathtaking Motion Picture Quality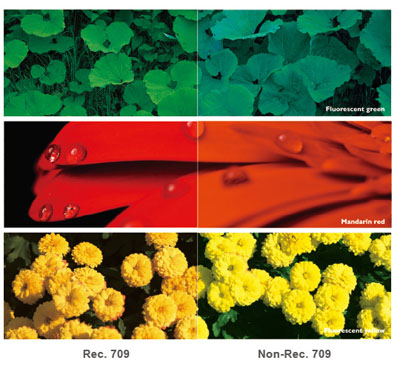 Rec. 709 Standard for Authentic Cinematic Color
Rec.709 is the international High Definition standard that guarantees display devices can faithfully reproduce the original cinematic color palette the movie director intended audiences to see.
Using the latest and most advanced 6X Speed RGBRGB color wheel with custom segment angles and coatings, the HT3050 achieves Rec. 709 cinematic color reproduction, delivering precise Hollywood Studio color right out-of-the box.
See your favorite movies as you have never seen them before, with the exact cinematic colors as the movie studios intended.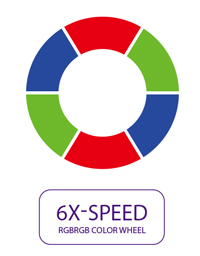 How Our Projectors Are Designed for Rec. 709
While most projector manufacturers choose a saturated color tone bias towards increased colorfulness, resulting in color accuracy loss, the HT3050 fully achieves the Rec.709 color standard. The process of building a projector includes many variables such as lenses, lamps and color wheel coating. We work relentlessly to close any gaps from those variances and to make our projectors perform exactly to Rec. 709. This is because we believe that colors matter to our customers when enjoying movies as they were meant to be seen.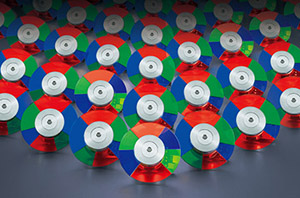 Hardware Design
BenQ's ISF-trained expert engineers tried more than 20 different combinations of color segments and color wheel coating, the factors that directly affect color gamut and brightness of a projector.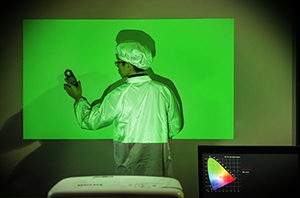 Software Optimization
To maximize color accuracy, the process of software optimization involved adjusting the blacks, whites and greys towards D65 defined by Rec. 709. And the three primary and three secondary colors were adjusted one by one, until they were as close as possible to the references on the Rec. 709 color gamut.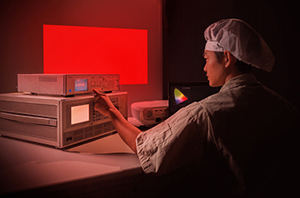 Production Line Quality Control
Three color adjustment stations in our production line perform final checks on every single unit of our Rec. 709 projectors. Using exclusive BenQ color adjustment procedures, we make sure each projector is manufactured according to the Rec. 709 color standard, and BenQ quality engineers perform final color tests on each projector built to ensure Rec.709 performance.
Crisper, sharper Full HD 1080p
Built with high-grade pure glass elements in its light engine and an all-glass cinema grade projection lens, the HT3050 beams crisper, sharper Full HD 1080p content than any projector in its class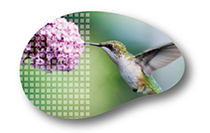 Non Full HD Picture
Low Image Resolution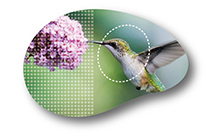 Full HD 1080P Picture
Ultra-Definition Resolution
Hollywood magic in Your House

Featuring CinemaMaster audio, powered by MaxxAudio technology, the HT3050 delivers a powerful 20-Watts of spectacular stereo cinema quality sound. Two acoustically balanced drivers encased in resonant chambers inside the projector deliver vibrant, rich, full range sound using the same Wave Audio algorithms employed by Hollywood studios to dramatically improve the movie viewing experience.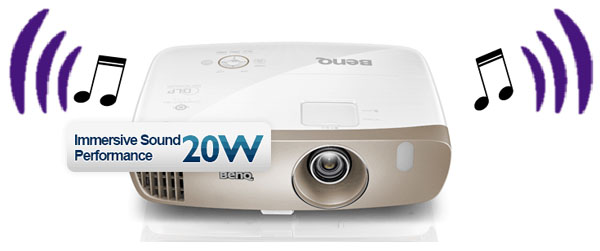 Independent 3D Color Control for All 6 Primary Colors
BenQ's unique color management tool allows users to independently fine-tune the gain, saturation and hue of six primary colors (R/G/B/C/M/Y). Enabling users to customize colors to accurately reproduce every shade found in nature.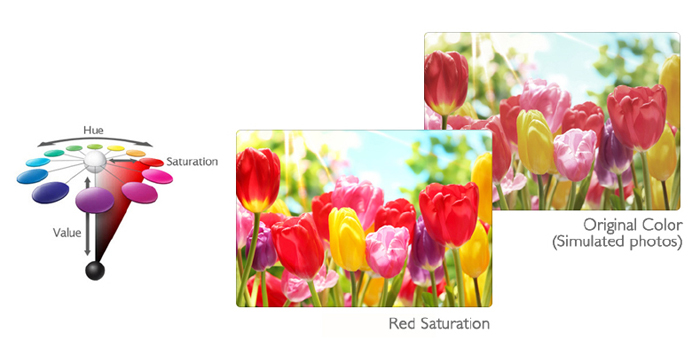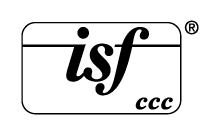 ISFcccCertification Professionally Calibrated Visual Entertainment
The HT3050 features ISFccc preset modes, enabled by professional calibrators from the highly reputed Imaging Science Foundation to provide the most precise color possible for Day/Night viewing.
Unmatched Image Performance & Viewing Quality
High Contrast, Razor-Sharp Image
As the world's No.1 best-selling DLP projectors, BenQ living room projectors create real-world performance with an ANSI Contrast Ratio that significantly surpasses that of non-DLP projectors for powerfully clean and crisply detailed images.
Class-Leading High Fill Factor:
Featuring class-leading High Fill Factor, the HT3050 shines more light into each pixel, improving definition for small text and fine details, and eliminating "screen door effect", for beautifully rendered images.

BenQ SmartEco:
An ingenious solution that intensifies your viewing pleasure while saving money, SmartEco automatically adjusts lamp brightness based on content to project richer blacks and increase contrast for tiny text and subtle details.

All-Glass Optics for the finest Image Quality
The BenQ Full HD 1080p optical system uses only the highest grade lenses and optics for best-in-class performance and ultra-realistic image quality. Proprietary low-dispersion lens coatings minimize chromatic aberration, delivering sharper, crisper video to the screen for the most vivid movie viewing experience.

Setup in Minutes with Hassel Free Installation
Larger Than Life Shorter Throw Projection
100" Image from just 8.4'
Enjoy larger than life movies, sporting events, TV shows and action-packed video games in any room in the house. The short throw lens in the BenQ HT3050 home theater projector can fill large screens from shorter distances for easy, uncomplicated setup.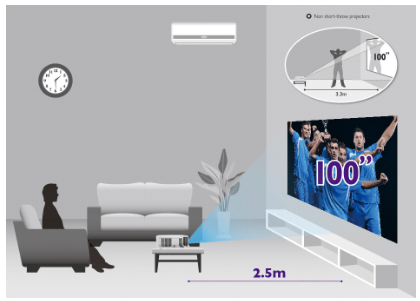 Big Zoom for Big Pictures in Any Space
Whether you permanently install or simply bring out the projector for special occasions, the 1.3X Big Zoom lens in the BenQ HT3050 will provide the placement flexibility needed to enjoy the image size you want, where you want it.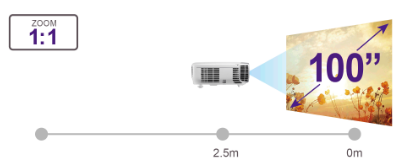 Vertical Lens Shift Flexibility
Lens shift provides the flexibility to optically move the image on the screen to overcome minor installation miscalculations. This helpful feature provides peace of mind knowing the projected image will land precisely over the area needed.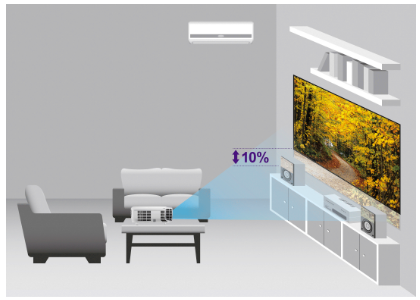 Side Projection with 2D Keystone
Horizontal and vertical keystone correction eliminates the trapezoid effect when the projector is placed at an indirect angle from the screen, allowing you to set the projector up in a corner or on a side table to facilitate projection in more places.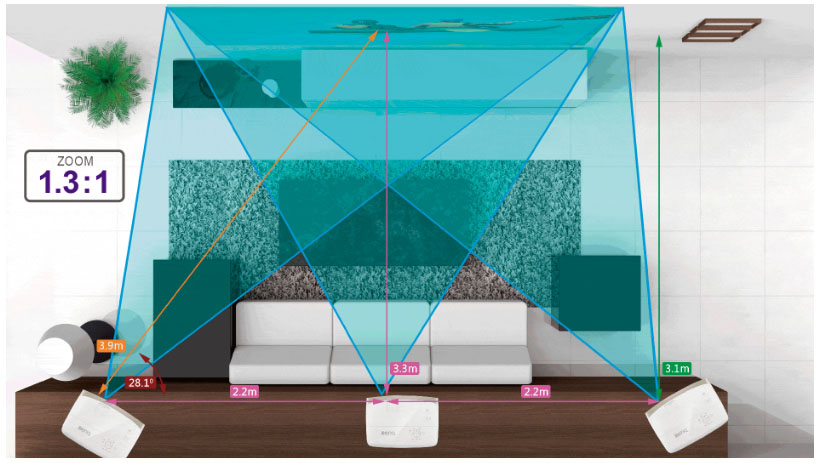 Easy & Friendly Operation
Intuitive User Interface
BenQ Home Theater projectors feature an intuitive, easy to follow user interface, allowing quick access to all projector features to enable users to customize their experience.

Step-by-Step Setup Guide
An easy to follow step-by-step guide will walk you through the initial projector setup. Whether you are a first time or experienced user, you will be enjoying stunning viewing experiences on your new BenQ HT3050 in no time.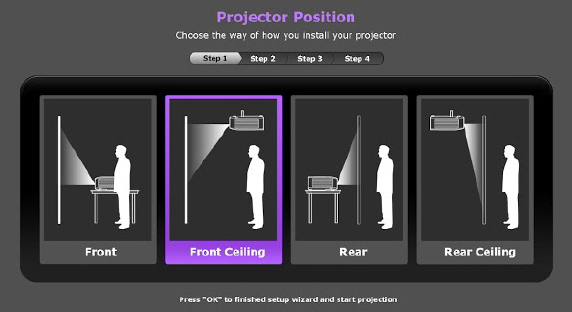 Project onto Any Wall Color Surface
The Wall Color Correction feature can be used normalize the image when projecting onto color surfaces, providing the flexibility to enjoy content in any room in the house.
One-Stop Home Entertainment Without Wires
The optional BenQ Wireless Full HD Kit allows users to wirelessly stream uncompressed Full HD 1080p content from your HDTV set-top box, gaming console, blu-ray/DVD player, or AV receiver to the projector up to 100 ft. away*.
No complicated installation, no expensive cables to buy and no unsightly wires to hide. With zero latency and uncompressed HD resolution video, the BenQ Wireless Full HD Kit is ideal for gamers and Home Theater enthusiasts alike. Play your favorite game or watch your favorite movie just as you would with a hard wired connection. The BenQ Wireless Full HD Kit allows the same image to be viewed on two separate displays, one wireless and one wired, and can transmit through walls and floors making it easy to enjoy your entertainment in your favorite room in the house.
*Range is based on optimum, line-of-sight conditions. Distance may vary depending on user environment. Structures constructed of steel, concrete, wood or brick will decrease transmission distance.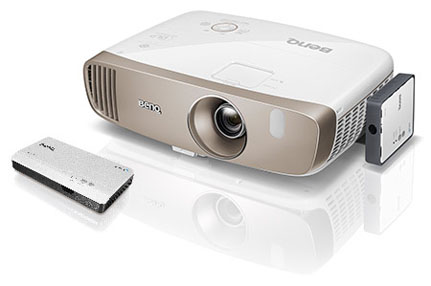 Wireless FHD Kit (optional)
Uncompressed streaming with resolution up to 1080p 60Hz.
Stream up to 100 feet with no latency, great for gaming
Ultra stable and fluent streaming quality 
*Available in select regions
Long Lasting Picture Quality with Colorifc DLP Projection Technology
Digital Light Processing (DLP), winner of 2015 Academy Award of Merit (Oscar statuette), is the projection technology used in 90% of world's digital cinemas and 100% of IMAX theaters. With over 50% share worldwide, DLP dominates the projector market; BenQ is the #1 bestselling DLP projector brand in the world, delivering leading edge technology with world-class performance.
Accurate
BenQ DLP Projectors deliver the most intensely realistic colors and vivid images possible. Combining industry-leading innovations such as interchangeable six-segment color wheels and DLP BrilliantColor™ Technology, BenQ projectors accurately reproduce challenging color palettes and specific shades, generating natural looking skin tones with unmatched precision to meet Rec.709 and sRGB specifications.

BenQ DLP Projectors︱ Long-Lasting Image Perfection with DLP Technology
Timeless Image Quality: Colorific Technology Delivers Lifelike Color, Year After Year
BenQ uses Colorific technology to optimize images for specific color balance effects for diverse applications such as presentations, movies and spreadsheets and photographs. Every BenQ Colorific projector generates more than one billion colors by combining up to seven different colors to create vibrant, true to life images. You'll also experience dramatic contrasts for remarkable clarity, higher impact, and greater legibility. BenQ's Colorific projectors are dependable year after year. You can rely on the colors to remain the same from day one to a decade later--without the risk of fading, ghosted images, or yellowing.
Accurate. Over 1 billion colors - compared to 16.7 million from many LCD projectors
Crisp. Bright, high contrast picture - 3x more contrast than similar top-selling LCD models
Long-Lasting. Consistent quality - image is the same now and years from now
Non-DLP Projector

BenQ DLP Projector

Razor-Sharp Image Clarity
Critically acclaimed for industry-leading high contrast, BenQ DLP Projectors produce crisper images with sharper, better defined details and crystal-clear vibrancy by maximizing the fill ratio of individual pixels and employing exclusive BenQ SmartEco Technology.

Specifications: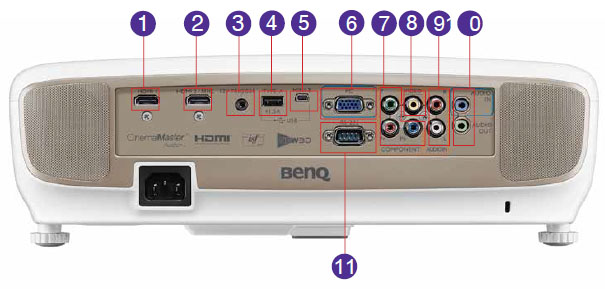 HDMI
HDMI / MHL
12V Trigger
USB (Type A)
USB (Type mini-B)
Monitor Out (D-sub 15pin)
Component video in
Composite Video in (RCA)
Audio L/R
Audio In & Out
RS232 (DB-9pin)
BenQ HT3050 Specifications
Model
HT3050
Projection System
DLP
Native Resolution
1080p (1920 x 1080)
Brightness* (ANSI Lumens)
2000 ANSI Lumens
Contrast Ratio
15000:1
Display Color
1.07 Billion Colors
Lens
F = 2.59 - 2.87, f = 16.88 - 21.88 mm
Aspect Ratio
Native 16:9 (5 aspect ratio selectable)
Clear Image Size/ Maximum Image Size
60"~180" / 300"
Throw Ratio
1.15-1.5 (100"@2.5M)
Image Size (Diagonal)
40"-235"
Zoom Ratio
1.3:1
Lamp Mode (Normal/ Economic/ SmartEco/ LampSave/ LumenCare)*
3500 / 5000 / 6000 hours
Keystone Adjustment
Auto Vertical & Manual Horizontal ± 30 degrees
Projection Offset
105% ± 2.5%
Resolution Support
VGA (640 x 480) to WUXGA_RB (1920 x 1200) *RB=Reduced Blanking
Horizontal Frequency
15 - 102KHz
Vertical Scan Rate
23 - 120Hz
Lens Shift
Vertical : +10%
Lamp Wattage
240W
Interface
Computer in (D-sub 15pin) x 1 
Composite video in (RCA) x 1 
Component video in x 1 
HDMI-1 x 1 
HDMI-2 / MHL x 1 
Audio in (Mini Jack) x 1 
Audio L/R in (RCA) x 1 
Audio out (Mini Jack)x 1
Chamber speaker 10W x 2
USB (Type A) x 1 (5V/1.5A power supply)
USB (Type Mini B) x 1 (Service)
RS232 (DB-9pin) x 1
IR receiver x 2 (Front & Top)
Dimensions (W x H x D mm)
380.5 x 121.7 x 277 mm

HDTV Compatibility
480i, 480p, 576i, 567p, 720p, 1080i, 1080p
Video Compatibility
NTSC, PAL, SECAM, SDTV
Weight
3.6 kg (7.93lbs)
3D Support and Compatibility
Frame Sequential: Up to 720p 
Frame Packing: Up to1080p
Side by Side: Up to 1080i/p 
Top Bottom: Up to 1080p
Audible Noise (Normal/Economic Mode)
29 / 27 dBA
Picture Modes
** ISF Disabled: Bright / Vivid / Cinema (Rec. 709) / Game / User 1 / User 2 / (3D) 
*** ISF Enabled: Bright / Vivid / Cinema (Rec. 709) / Game / User 1 / User 2 / ISF Night / ISF Day / (3D)
Color Wheel Segment
6-Segment (RGBRGB)
Color Wheel Speed
6x (50Hz), 4x (60Hz)
Power Supply
AC100 to 240V, 50 to 60 Hz
Power Consumption
Normal 330W, Eco 280W, Standby <0.5W
On-Screen Display Languages
Arabic/Bulgarian/ Croatian/ Czech/ Danish/ Dutch/ English/ Finnish/ French/ German/ Greek/ Hindi/ Hungarian/ Italian/ Indonesian/ Japanese/ Korean/ Norwegian/ Polish/ Portuguese/ Romanian/ Russian/ Simplified Chinese/Spanish/ Swedish/ Turkish/ Thai/ Traditional Chinese
(28 Languages)
Accessories (Standard)
Lens Cover
Remote Control with Battery 
Power Cord (by region)
User Manual CD
Quick Start Guide
Warranty Card
Accessories (Optional)
Spare Lamp Kit P/N: 5J.JEE05.001 
Ceilling Mount P/N:5J.JAM10.001 
Wireless FHD Kit P/N: 5J.J9H28.A02 
DLP 3D Glasses P/N: 5J.J9H25.001
*Lamp life results will vary depending on environmental conditions and usage. Actual product's features and specifications are subject to change without notice.
Pricing Notes:
Pricing and product availability subject to change without notice.
BenQ Products
Projectors
BenQ HT3050 HD Home Theater Projector with Rec. 709 Cinematic Colors
#HT3050
List Price:
$1,399.00
Our Price: $1,106.00