BenQ MW853UST+

More Engagement, More Learning Fun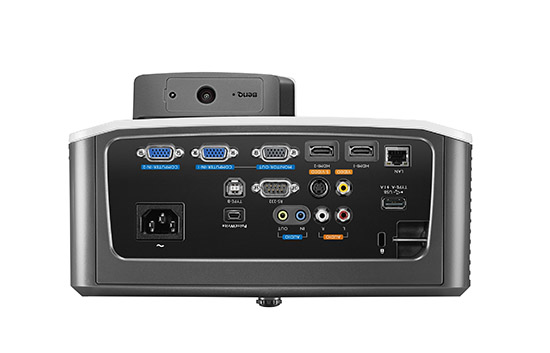 MW853UST+ WXGA 3200 ANSI Lumens Ultra Short Throw Projector
#MW853UST+-001
List Price: $1,999.00
Our Price: $1,293.00
Overview:
A total classroom interactive solution, the MW853UST+ offers superior connectivity with an ultra-short throw design, dual HDMI inputs and optional PointWrite™ and or PointTouch™ interactivity. The 3,200 ANSI lumens, 10,000:1 crisp contrast ratio and enhanced SmartEco™ lamp technology deliver an accurate, crisp and long-lasting image. That's Colorifiic™! For flexible projector placement, the MW853UST+ includes an adjustable wall mount and delivers the world's first vertical lens shift to make installation easy and simple.
Key Features
Native WXGA (1280 x 800) Resolution
3,200 ANSI Lumens, 10,000:1 High Contrast Ratio
Up to 7,000 Hours Lamp Life
PointWrite Interactive Kit Compatible
Vertical lens shift
Wall Mount Included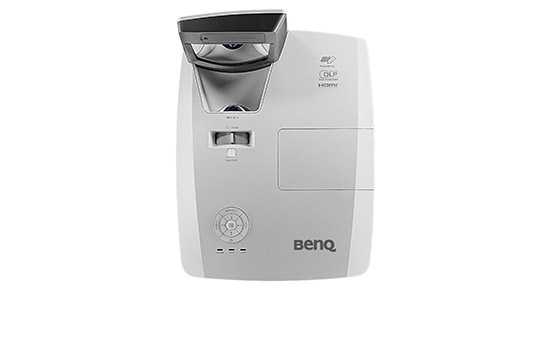 Features:
Interactive Learning with BenQ's Leading Technology
Foster Active Learning Through PointWrite Interactivity and Classroom Collaboration
Keeping students involved and engaged is a central practice in the BenQ Smart Classroom concept- simply integrating MW853UST+ with latest PointWrite™ technology is a great way to let multiple students contribute at once. BenQ brings interactive innovation and touch solutions to a new level of simplicity, ease and control, supporting flipped learning and engaging students like never before. Teachers now can turn any space into an interactive whiteboard and get up to 4 students to collaborate simutaneously with PointWrite™ pens or simply with fingers.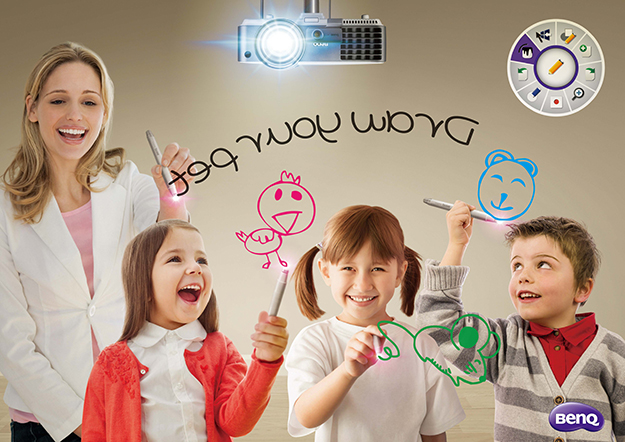 PointWrite™ and PointTouch™ Features:
Interactive on any surface
Dual screen with multiple touch capabilities
Supports up to 4 pens/fingers
Effortless setup with only 1 second auto calibration*
An ultra-fast 0.016-second response time for a smooth writing experience
*Calibration speed may vary depending on computer system.
**The function is available with optional PointWrite Kit..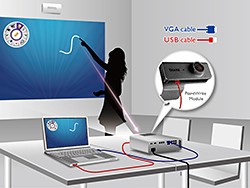 Dual Screen with Multiple Touch Capabilities
BenQ's dual screen feature allows teachers to create an immersive learning experience by connecting two PointWrite™ interactive projectors to project two seamlessly merged screens. This creates a super-sized space for learning the solar system, virtual field trip around the world, or simply a great big canvas for collaboration.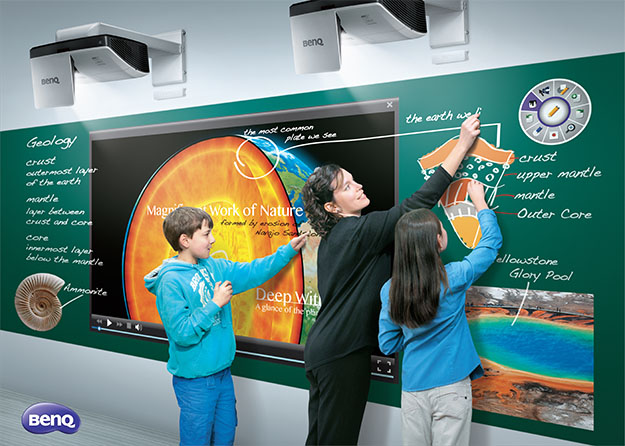 Efficiency Installation with BenQ Thoughtful Product Design
Efficiency Installation with Wall Mount Alignment System
Designed to help ensure a fail-proof projector installation, BenQ has implemented extra help into its wall mount design. This installer-friendly ultra short-throw projector wall mount features an installation chart and a measuring ruler to help you find the most suitable projector-screen alignment and image position for your classroom.
Simple Steps to Installing BenQ's Wall Mount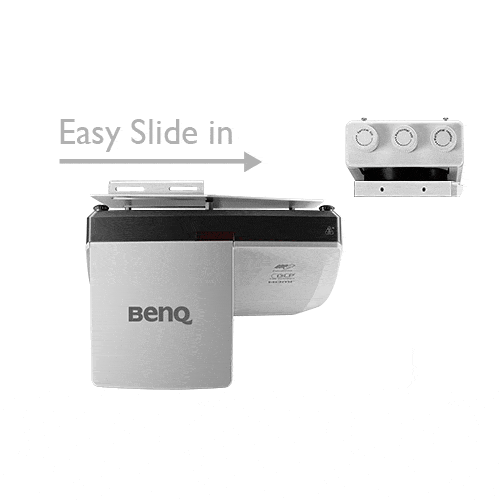 1. Slide in the projector to connect with the wall mount.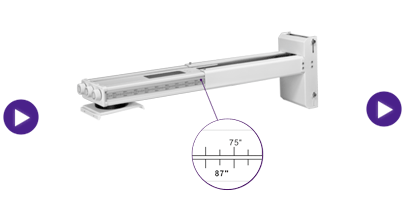 2. Check the measuring ruler for the desired projection image size and adjust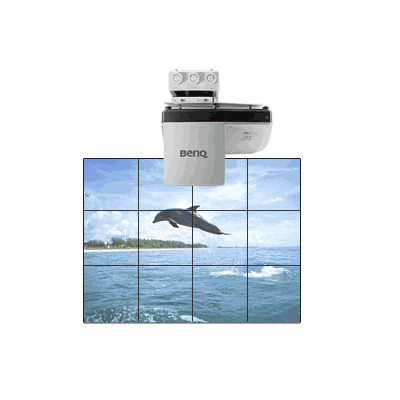 3. Make minor adjustments to the image.
Lens Shift for Extra Room for Minor Miscalculations
Lens shift offers the extra flexibility to overcome any minor miscalculations during projector installation. All you have to do is adjust the switch to shift the projected image up or down by 4%. With this helpful feature, you'll never have to worry about positioning the projector slightly out of place again!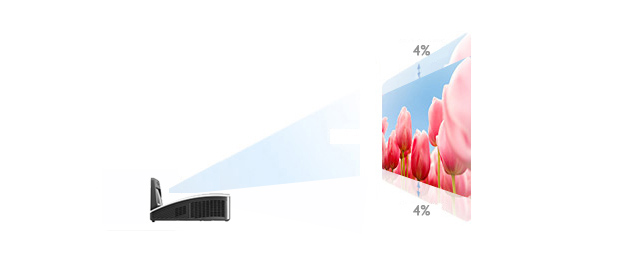 Power Saving, Eco Friendly
Saving More on Power Consumption with BenQ's SmartEco™ Technology
Offering lower TCO and optimized projection through dynamic power saving, uncompromised brightness, exquisite picture quality and optimized lamp life – SmartEco Technology has perfected what a DLP projector can do. With this innovation, schools and corporates are able to save up to 70% of lamp power consumption and lower maintenance costs through dynamic power saving features while bringing an ultra-vivid viewing experience into every presentation.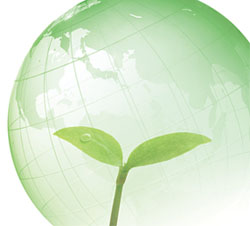 SmartEco Mode: Power Smarter
By detecting the input content to determine the amount of brightness required for optimum color and contrast performance, the SmartEco Mode is able to reduce lamp power while delivering the finest image quality. No compromise!

*SmartEco Mode, the dynamic power saving mode,can save at least 70% power based on the projection content level.
Eco Blank Mode
The Eco Blank Mode, which lowers power consumption up to 70%, can be used to blank the projection screen when the projector is not in use, in turn eliminating distractions in class and redirecting students' focus back on the teacher.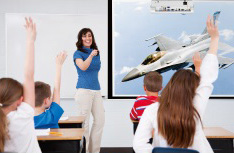 Full Power On
100% Lamp Power
Attention on the Projection Screen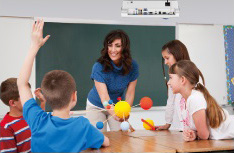 Eco Blank Mode On
30% Lamp Power at the Lowest
Attention on the Class Instructor
No Source Detected Mode
The automatic switch to Eco Blank Mode after the projector is turned on for over three minutes without a display source, eliminating unnecessary energy waste and prolonging the life of the projector lamp.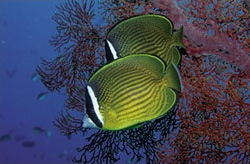 Source Detected
100% Lamp Power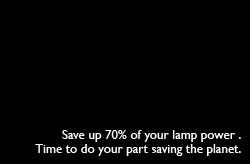 No Source Detected
30% Lamp Power
LampSave Mode: Save More
Less lamp replacements and maintenance translates into an overall lower cost of ownership. The LampSave Mode does exactly that by adjusting the lamp power dynamically by content level to extend projector lamp life significantly by up to 50% as compared to normal mode.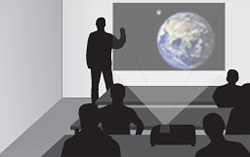 Good Things Come in Short Distances
Zero Space Constraints
You don't need a big room or a lot of free ceiling space to create a big picture when you've got an ultra short-throw projector! Teachers can turn every corner into the perfect place for educational use.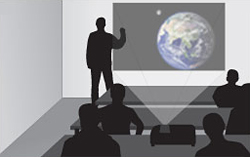 Non Short-throw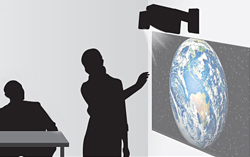 Short-throw
Zero Shadow Disruptions
An ultra short-throw projector can be placed close to the screen in front of the class and well out of students' way, greatly decreasing the occurrences of shadow disruptions. Teachers can enjoy teaching without worrying about the class being interrupted.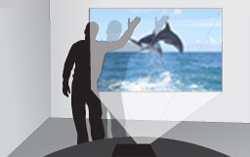 Non Short-throw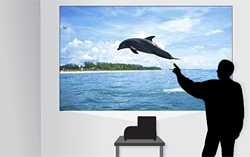 Short-throw
Zero Eye-Blinding Lights
An ultra short-throw projector keeps the projector light from shining directly into everyone's eyes. The intensity of the projector beam may be potentially harmful. So it's for the best to keep it out of the way.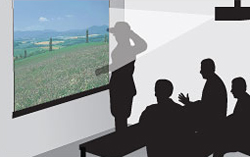 Non Short-throw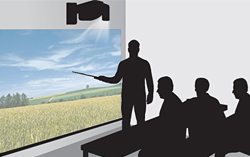 Short-throw
Blu-ray Full HD 3D Supported
BenQ MW853UST+ is built with latest DLP® technology to support 3D functionlity, allowing schools to bring an immersive learning experience to their students with a simple preparation of 3D glasses and 3D content.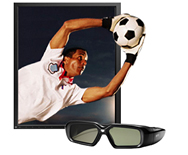 Hassle-Free Projector Maintenance
Projector Management through LAN Control
LAN Control is designed to help IT managers perform day-to-day projector maintenance and repair tasks efficiently and effectively – offering them full access and control over every projector directly from their workstations. The MW853UST+ offers seamless support for the Crestron and AMX LAN Control system.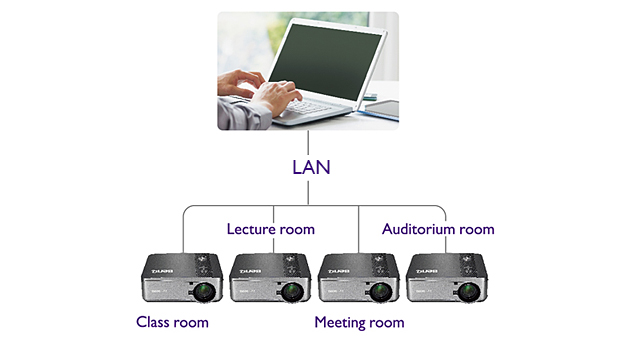 ecoFACTS Label
ecoFACTS can tell you how eco-friendly BenQ products are!
Development of eco-friendly products, BenQ doesn't just want to comply with green regulations passively, but also to actively develop eco-friendly products!
ecoFACTS declares BenQ's greatest efforts on the replacement of hazardous substances, material selection, packaging design, energy-saving design and other aspects of the products.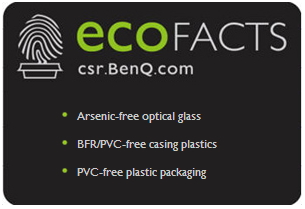 Video:
BenQ Education Projector - Interactive Solutions to Maximize Classroom Learning
The videos introduces BenQ interactive projector product features and how it helps collaboration and learning enjoyment. It also shows the features of multi-touch and dual screen, allows students to share ideas on any flat surface with finger/any object on immersive screen.
.
BenQ Education Projector - Ultra Short - Throw Projector Features Efficient Installation Design
BenQ installer-friendly ultra short-throw projector wall mount alignment system is designed to help ensure a fail-proof projector installation. It features an installation chart and a measuring ruler to help you find the most suitable projector-screen alignment and image position for your classroom.
.
Introducing Colorific™ by BenQ - Accurate, crisp and long-lasting color -- that's Colorific.™
For radiant, life-like color, trust BenQ to deliver. From business presentations and educational venues to spectacular events and home entertainment, Colorific from BenQ is the only way to experience your projected images.
.
Discover the Ingenuity & Inner Workings of Colorific™ Projectors
BenQ's Colorific™ projectors radiate more than one billion colors by combining up to seven different colors to create vibrant, true to life images v. traditional 3-color LCD architecture.
.
See Color Science in Action
Unlike traditional LCD projectors, DLP technology uses both primary -- red, green and blue colors -- and secondary -- cyan, yellow and magenta, colors -- along with white light to deliver multiple viewing modes.
.
Specifications: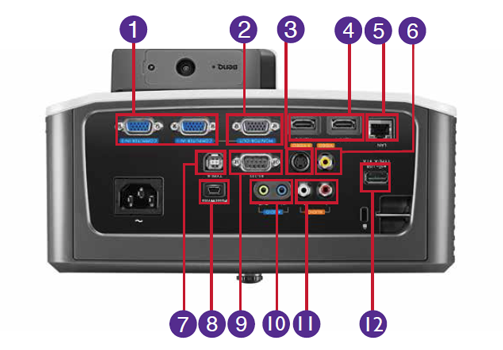 Computer in 1 & 2 (D-sub 15pin)
Monitor Out (D-sub 15pin)
S-Video In (Mini DIN 4pin)
HDMI 1 & 2
LAN
Composite Video in (RCA)
USB (Type Mini B)
PointWrite
RS232 (DB-9pin)
Audio In/Out (Mini Jack)
Audio (L/R)
USB (Type A)
BenQ MW853UST+ Specifications
Projection System
DLP
Native Resolution
WXGA(1200*800)
Brightness* (ANSI Lumens)
3200AL
Contrast Ratio
10,000:1
Display Color
1.07 Billion Colors
Lens
F2.5,f=5.1mm
Aspect Ratio
Native 16:10 (5 aspect ratio selectable)
Throw Ratio
0.35
Image Size (Diagonal)
Optimization 80"-100" / Maximum 300"
Zoom Ratio
Fix
Lamp Type
230W
Lamp Mode (Normal/ Economic/ SmartEco/ LampSave/ LumenCare)*
4000/5000/7000/NA/NA hours
Keystone Adjustment
1D, Vertical +/- 40 degrees
Projection Offset
136%~144% (±5%)
Resolution Support
VGA(640 x 480) to UXGA(1600 x 1200)
Horizontal Frequency
15~102KHz
Vertical Scan Rate
23~120Hz
Interface
Computer in (D-sub 15pin) x 2(Shared with component)
Monitor out (D-sub 15pin) x 1
Composite Video in (RCA) x 1
S-Video in (Mini DIN 4pin) x 1
HDMI x 2
Audio in (Mini Jack) x 1
Audio out (Mini Jack) x 1
Audio L/R x 1
Speaker 10W x 2
USB (Type mini B) x 1 (PointWrite interactive module)
USB (Type B) x1 ( FW download)
USB(Type A) x1 (1A Power for PT01 Touch module)
RJ45 x1 (LAN control)
RS232 (DB-9pin) x 1
IR Receiver x1 (Front)
Dimensions (W x H x D mm)
373.3*287.5*130.2mm (w/o Mirror)
373.3*287.5*201mm(w Mirror)

HDTV Compatibility
480i, 480p, 576i, 576p, 720p, 1080i, 1080p
Video Compatibility
NTSC, PAL, SECAM
Weight
5KG(w/o wall mount)
Audible Noise (Normal/Economic Mode)
33/29 dBA (Normal/Economic mode)
Power Supply
AC100 to 240 V, 50 to 60 Hz
Power Consumption
typical 290W, stanby power <0.5W
On-Screen Display Languages
Arabic/Bulgarian/ Croatian/ Czech/ Danish/ Dutch/ English/ Finnish/ French/ German/ Greek/ Hindi/ Hungarian/ Italian/ Indonesian/ Japanese/ Korean/ Norwegian/ Polish/ Portuguese/ Romanian/ Russian/ Simplified Chinese/Spanish/ Swedish/ Turkish/ Thai/ Traditional Chinese (28 Languages)
Picture Modes
Dynamic/Presentation/sRGB/Cinema/(3D)/User 1/User 2
Accessories (Standard)
Remote Control w/ Battery : RCE012
Power Cord (by region) : 2.9M
User Manual CD *1
Quick Start Guide *1
Warranty Card (by region) *1
VGA(D-sub 15pin) Cable *1
Dust filter(C SKU) *1
Wall mount kit (installation guide) *1

Accessories (Optional)
Spare Lamp Kit : 5J.J8M05.011
Wall Mount : WM04G4
3D Glasses : DGD24
Document Camera : S30
PointWrite Kit (PW01U) P/N: 5J.J8L26.20E
PointWrite Pen Only P/N: 5J.J9A26.001
Touch Module P/N: 5J.J8L26.10E
*Lamp life results will vary depending on environmental conditions and usage. Actual product's features and specifications are subject to change without notice.
Distance Chart: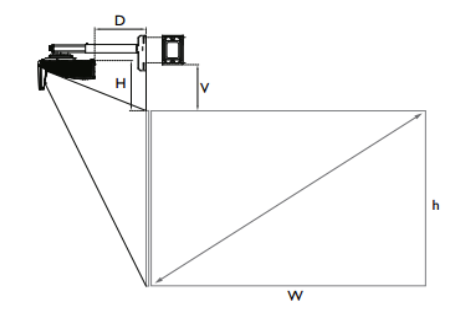 WXGA
Screen size
(Diagonal)
Screen size
Width (W)
Screen size
Height (h)
Projection
distance (D)
Offset (H)
Scale
parameter
Distance between
Wall plate & projection screen (V)
Inch
mm
Inch
mm
Inch
mm
Inch
mm
Inch
mm
Inch
80
2032
67
1723
42
1077
11.11
282.3
11.02
280
495
254.7
85
2159
71
1831
45
1144
12.73
323.3
11.59
294.3
535
269
87
2210
73
1874
46
1171
13.40
340.3
11.82
300.2
555
274.9
90
2286
76
1939
47
1212
14.38
365.3
12.16
308.9
580
283.6
92
2337
77
1982
48
1239
15.01
381.3
12.38
314.4
600
289.1
95
2413
80
2046
50
1279
15.98
405.8
12.72
323
625
297.7
97
2464
81
2089
51
1306
16.65
422.8
12.95
328.9
645
303.6
100
2540
85
2154
53
1346
17.55
445.8
13.26
336.9
665
311.6
Wall Mount Chart: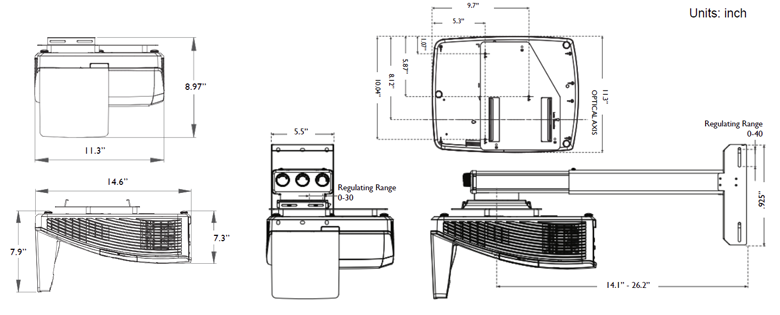 Pricing Notes:
Pricing and product availability subject to change without notice.
BenQ Products
Projectors
MW853UST+ WXGA 3200 ANSI Lumens Ultra Short Throw Projector
#MW853UST+-001
List Price:
$1,999.00
Our Price: $1,293.00