BenQ MW705

Business WXGA Projector
Overview:
Brilliantly powerful yet simple to use, the BenQ MW705 business projector turns your bright ideas into effective presentations. Its sleekly modern design quietly delivers 4000 lumens bright image and with the ease of one-touch controls, even for wireless streaming makes presenting a breeze. Look no further, the MW705 is smartest professional projection solution.
Key Features
WXGA (1280x800) resolution
4,000 ANSI lumens
Dual HDMI, MHL x 1
H + V keystone image adjustment
Optional wireless presentation on the go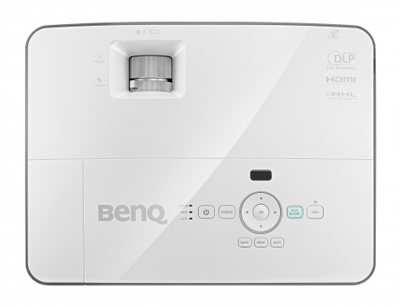 Features:
Powerfully Bright and Whisper Quiet
Fan noise on conventional high-brightness projectors can be loud. The MW705 was designed to operate at whisper quiet noise levels. Even at its bright 4000 lumens level, the MW705 measures only 31dB. Virtually silent and super brilliant, your presentation will command your audience's full attention with no distracting fan noise.
Easy QCast Wireless Streaming
The MW705 features a convenient integrated docking port to house the optional BenQ QCast wireless streaming dongle, providing seamless wireless integration for easy, effective, cable-free presentations. All-new one-touch controls for EcoBlank and QCast wireless streaming on both, the remote and projector keypad make it easy to pause presentations by blanking the screen or to quickly launch QCast wireless Full HD 1080p streaming.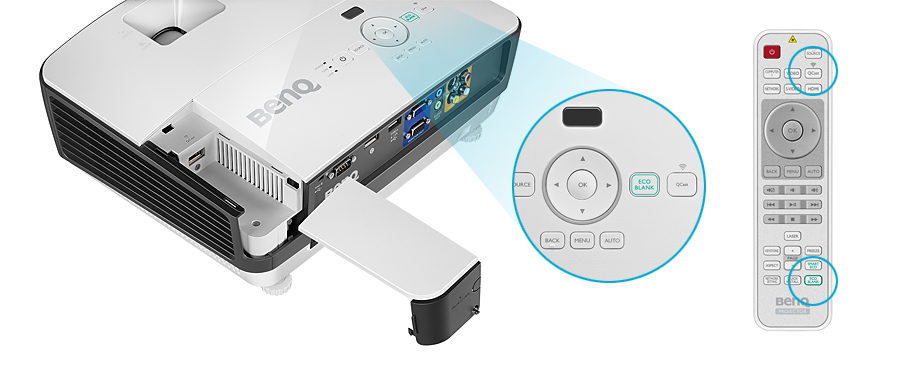 High Contrast
A high contrast ratio ensures that text, images, graphs, charts and videos are projected with optimal clarity and enhanced sharpness, especially for numerical data. The MW705 is intended for demanding presenters who want their content to be clearly seen by every person in the audience.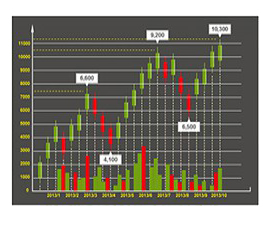 Low Contrast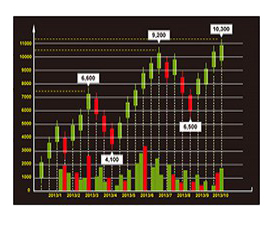 High Contrast
2D Keystone Geometric Correction
2D keystone correction provides installation flexibility by correcting the trapezoid effect via horizontal and vertical adjustments up to ±30 degrees. With it, the projector can be placed off center, allowing the presenter to stand in front of the screen without blocking the image. The projector can also be placed anywhere on a u-shaped tabletop without moving the table or putting a stand in the center.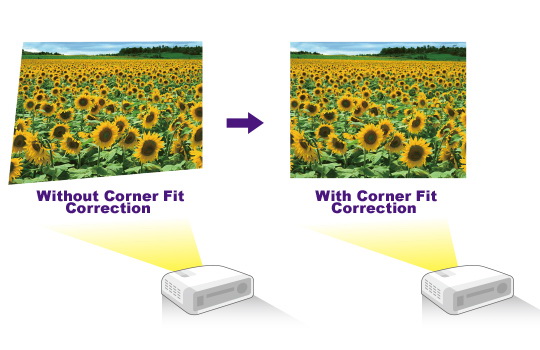 Corner Fit Geometric Correction
Corner fit Geometric Correction is a flexible and convenient way to align the picture perfectly on the screen by independently adjusting each corner of an image.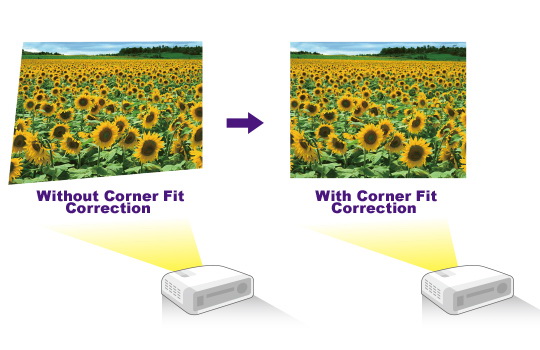 MHL Connectivity
With MHL you can present your business proposals and share your ideas instantly using your Android smart device. Turn small screen into big screen by mirroring documents, photos, videos and any other content in your smart device onto the projection screen. Once connected, the projector supplies power to the smart device, keeping it charged so you don't run out of battery power while presenting.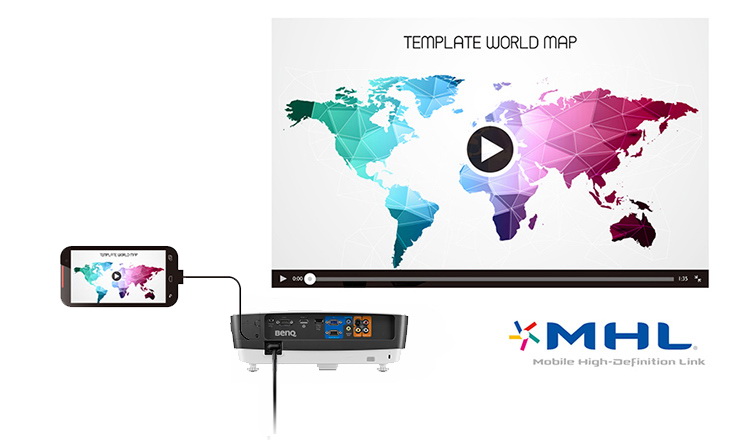 Eco Blank Mode
The Eco Blank feature allows users to blank or mute the projected image on the screen, affording privacy to search for files or documents while the desktop is not projected to the entire audience. When activated, Eco Blank automatically dims lamp power, therefore lowering total power consumption by up to 70%.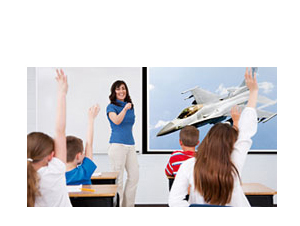 Full Power On
100%Lamp Power
Attention on the Projection Screen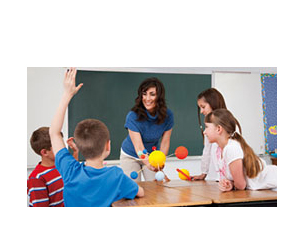 Eco Blank Mode On
30% Lamp Power at the Lowest
Attention on the Class Instructor
SmartEco Mode
SmartEco mode is designed to use only the exact amount of lamp power a projector needs to deliver the best contrast and brightness performance. This feature enables the MW705 to deliver uncompromised projection quality with the added benefit of reduced the total cost of ownership by greatly extending lamp life and lowering power consumption.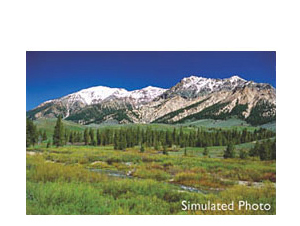 Normal Mode
350W Projector Power Comsumption by Average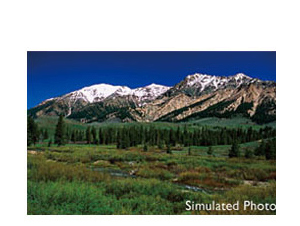 SmartEco Mode
Enhanced Details in Darkened Scenes
261W Projector Power Comsumtion by Average
No Source Detected Mode
There will be times when a projector is turned on without a display source, such as a notebook or classroom PC connected. To avoid having a projector running at full lamp power, BenQ created the No Source Detected feature, which lowers the projector's lamp brightness to 30 % after the projector has remained unconnected to a display source for more than three minutes.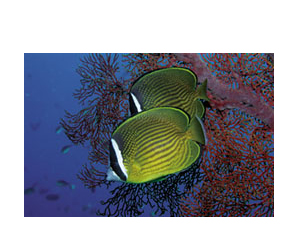 Source Detected
100% Lamp Power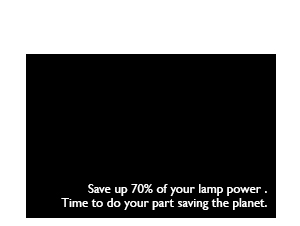 No Source Detected
30% Lamp Power
0.5W in Standby Mode
When inactive, the MW705 keeps power consumption to a minimum, using <0.5W power while in standby mode, achieving a level of energy savings that was once considered unattainable by older projector generations, effectively reducing the total cost of ownership.
Less than 6W in Network Standby Mode
When connected to a LAN, the MW705 consumes less than 6W power to stay connected and accessible via the network, even after it has been powered off. IT personnel can retain full control over the projector and are able to schedule maintenance operations.
Dual-Axis Tilt Adjustment
The all-new MX705 includes dual leveling feet to help perfectly align the projector to the screen. Twice as effective as a single foot, the two adjustable levelling feet provide a simple way to set the projector up on a tabletop and start the meeting.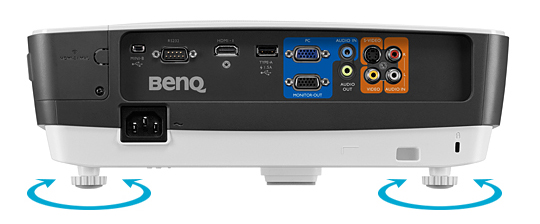 Various 3D format supported
The MW705 is standard-equipped with DLP Link™-supported 3D projection to offer you the same amazing 3D effects seen in 3D movies. The 3D formats supported by the MW705 are 3D field-sequential, 3D frame packing, 3D top-and-bottom and 3D side-by-side. Furthermore, this incredible projector can be connected to a Blu-ray DVD player for even more stunning visual quality.
| Source / Format | 3D Field Sequential | 3D Frame Packing | 3D Top Bottom | 3D Side by Side |
| --- | --- | --- | --- | --- |
| D SUB-PC | | | | |
| HDMI-PC | | | | |
| HDMI-Video | | | | |
| S-Video | | | | |
| Video | | | | |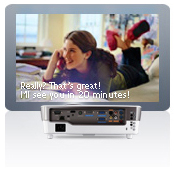 Closed Captioning
Display subtitles in video content without the need for an external closed-captioning device with the MW705.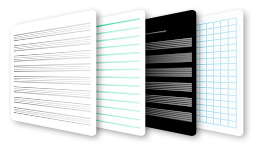 Writing Templates
No matter the task at hand, BenQ makes presentations easier and the MW705 is no exception. Built-into the projector, there is a selection of three different line patterns, emulating the look of notebook paper to help make writing ad hock notes on whiteboards and blackboards a snap.
BenQ Projectors, Featuring Award Winning DLP Technology
Digital Light Processing (DLP), awarded 2015 Academy Award of Merit (Oscar statuette), is the leading projection technology used in 90% of world's digital cinemas and 100% of IMAX theaters. With DLP dominating the worldwide projector market with over 50% share, BenQ is today the #1 bestselling DLP projector brand, delivering unmatched world-class performance.
Timeless Image Quality: Colorific Technology Delivers Lifelike Color, Year After Year
BenQ uses Colorific technology to optimize images for specific color balance effects for diverse applications such as presentations, movies and spreadsheets and photographs. Every BenQ Colorific projector generates more than one billion colors by combining up to seven different colors to create vibrant, true to life images. You'll also experience dramatic contrasts for remarkable clarity, higher impact, and greater legibility. BenQ's Colorific projectors are dependable year after year. You can rely on the colors to remain the same from day one to a decade later--without the risk of fading, ghosted images, or yellowing.
Accurate. Over 1 billion colors - compared to 16.7 million from many LCD projectors
Crisp. Bright, high contrast picture - 3x more contrast than similar top-selling LCD models
Long-Lasting. Consistent quality - image is the same now and years from now
Non-DLP Projector

BenQ DLP Projector

Razor-Sharp Image Clarity
Critically acclaimed for industry-leading high contrast, BenQ DLP Projectors produce crisper images with sharper, better defined details and crystal-clear vibrancy by maximizing the fill ratio of individual pixels and employing exclusive BenQ SmartEco Technology.

Specifications: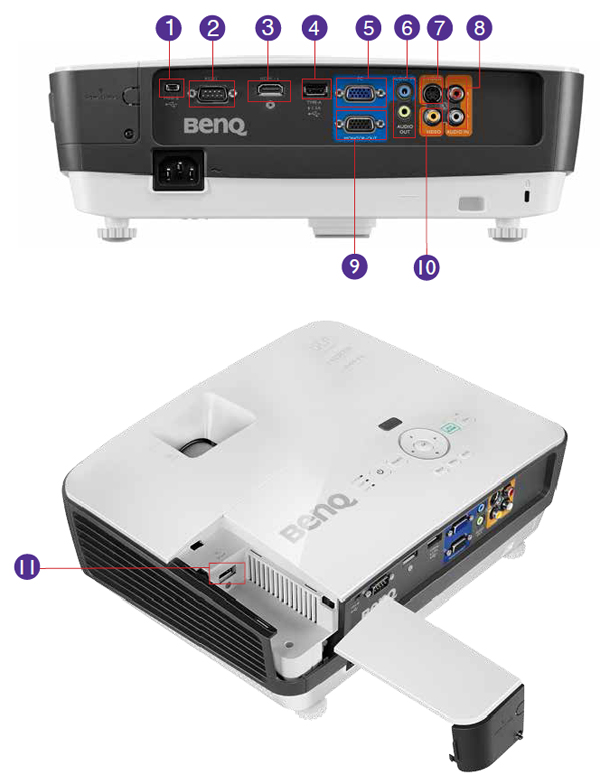 USB (Type mini-B)
RS232 (DB-9pin)
HDMI
USB (Type A)
Computer in (D-sub 15pin)
Audio In & Out (Mini Jack)
S-Video in
Audio L/R in (RCA)
Monitor out
Composite Video in (RCA)
HDMI / MHL
BenQ MW705 Specifications
Model
MW705
Projection System
DLP
Native Resolution
WXGA (1280 x 800)
Brightness* (ANSI Lumens)
4000 ANSI Lumen
Contrast Ratio
13000:1
Display Color
1.07 Billion Colors
Lens
F=2.56~2.68, f=22.04~24.14mm
Aspect Ratio
Native 16:10 (5 aspect ratio selectable)
Throw Ratio
1.55~1.7 (Wide 87"±3% @ 2.9m)
Image Size (Diagonal)
60" ~ 180"
Zoom Ratio
1.1x
Lamp Type
240W
Lamp Mode (Normal/ Economic/ SmartEco/ LampSave/ LumenCare)*
2500/4000/6000/7500 (80%~30%) hours
Keystone Adjustment
2D, Vertical & Horizontal ± 30 degrees; Auto vertical keystone ± 30 degrees
Projection Offset
Vertical: 100% ±5%
Resolution Support
VGA (640 x 480) to UXGA (1600 x 1200)
Horizontal Frequency
15 - 102KHz
Vertical Scan Rate
23 - 120Hz
Interface
Computer in (D-sub 15pin) x1( integrate with component)
HDMI x2 (HDMI with MHL2.0 x1, HDMI x 1) 
MHL x 1(HDMI with MHL2.0)
Monitor out x 1
Composite Video in (RCA) x 1
S-Video in x 1
Audio in (Mini Jack) x 1
Audio in (L/R) x1
Audio out (Mini Jack) x 1
Speaker 2W x 1
USB (Type A) x 1 (1.5A power supply)
RS232 (DB-9pin) x 1
IR Receiver x2 (Front+Top)
Dimensions (W x H x D mm)
13.03 x 4.5 x 9.69 inches (331.0 x 114.4 x 246.2mm) - without foot 
13.03 x 5.09 x 9.69 inches (331.0 x 129.4 x 246.2 mm) - with foot
HDTV Compatibility
480i, 480p, 576i, 567p, 720p, 1080i, 1080p
Video Compatibility
NTSC, PAL, SECAM
Weight
6.61 lbs (3Kg)
3D Support and Compatibility
Frame Sequential: Up to 60Hz 720p 
Frame Packing: Up to 24 Hz 1080p 
Side by Side: Up to 24Hz 1080p 
Top Bottom: Up to 60Hz 1080p
Audible Noise (Normal/Economic Mode)
31/28 dBA (Normal/Economic mode)
Picture Modes
**Dynamic / Presentation / sRGB / Cinema / (3D) / User 1 / User 2
Power Supply
AC100 to 240V, TBD A, 50 to 60 Hz
Power Consumption
350W (Normal), 261W (Eco), Standby <0.5W
On-Screen Display Languages
Arabic/Bulgarian/ Croatian/ Czech/ Danish/ Dutch/ English/ Finnish/ French/ German/ Greek/ Hindi/ Hungarian/ Italian/ Indonesian/Japanese/ Korean/ Norwegian/ Polish/ Portuguese/ Romanian/ Russian/ Simplified Chinese/Spanish/ Swedish/ Turkish/ Thai/ TraditionalChinese (28 Languages)
Accessories (Standard)
Power Cord (by region)
Remote Control w Battery
VGA cable
User Manual CD
QSG
Lens Cover
Warranty Card (by region)
Accessories (Optional)
Spare Lamp Kit P/N: 5J.JEC05.001 
Video Streaming Dongle - QCast P/N: 5J.JCK28.A01 
Ceiling mount kit P/N: 5J.JAM10.001 
3D Glasses P/N: 5J.J9H25.001
*Lamp life results will vary depending on environmental conditions and usage. Actual product's features and specifications are subject to change without notice.
Pricing Notes:
Pricing and product availability subject to change without notice.
BenQ Products
Projectors
BenQ MW705 4000 ANSI Lumens WXGA Projector
#MW705
List Price:
$1,199.00
Our Price: $752.00