BenQ MW843UST

Ultra-Sharp Images at Short Distances
Overview:
Designed for disruption-free learning in small-sized classrooms, the MW843UST offers a big screen from short distances with a 0.37 ultra-short throw ratio. Together with 13,000:1 ultra-sharp contrast ratio and 3000 ANSI lumen brightness, this projector offers engaging image quality for your classroom!
Key Features
Native WXGA (1280 x 800) Resolution
3,000 ANSI Lumens, 13,000:1 High Contrast Ratio
SmartEcoT Power Saving Technology
Full 3D Ready
Up to 7,000 Hours Lamp Life
Wall Mount Bundle
Features: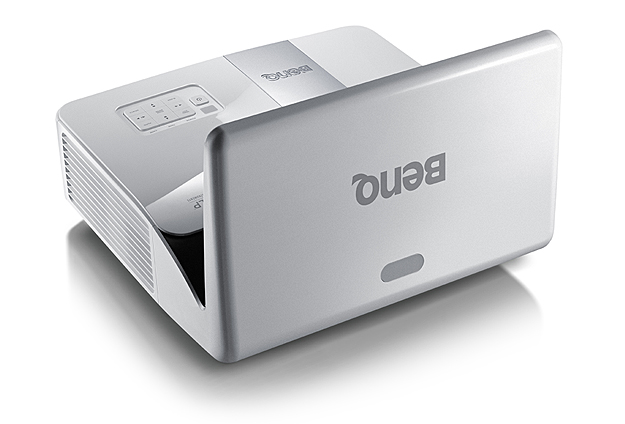 Power Saving, Eco Friendly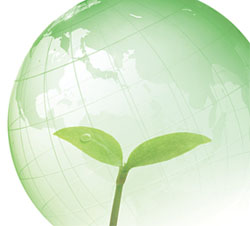 Saving More on Power Consumption with BenQ's SmartEco™ Technology
Offering lower Total Cost of Ownership (TCO) and optimized projection through dynamic power saving, uncompromised brightness, exquisite picture quality and optimized lamp life – SmartEco technology has perfected what a DLP projector can do. With this innovation, schools and companies are able to save up to 70% of lamp power consumption and lower maintenance costs through dynamic power saving features while bringing an ultra-vivid viewing experience to every presentation.
SmartEco Mode: Power Smarter
By detecting the input content to determine the amount of brightness required for optimum color and contrast performance, the SmartEco Mode is able to reduce lamp power while delivering the finest image quality. No compromise!


*SmartEco Mode, the dynamic power saving mode,can save at least 70% power based on the projection content level.
Eco Blank Mode
The Eco Blank Mode, which lowers power consumption down to 30%, can be used to blank the projection screen when the projector is not in use, eliminating distractions in class and redirecting students' focus back on the teacher.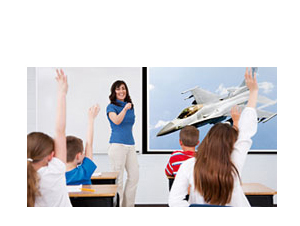 Full Power On
100%Lamp Power
Attention on the Projection Screen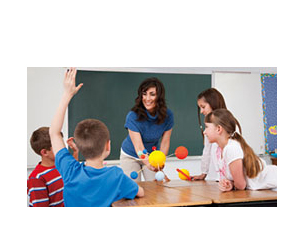 Eco Blank Mode On
30% Lamp Power at the Lowest
Attention on the Class Instructor
No Source Detected Mode
The No Source Detected Mode, which can be set to enter the Eco Blank Mode after three minutes of inactivity or to the Auto Power Off Mode after no display source has been detected for over 30 minutes, prevents the projector from running at full lighting power. It's just another way of doing your part in saving the planet.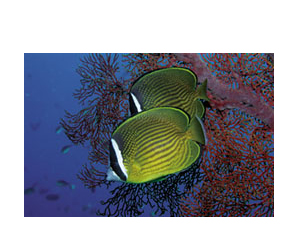 Source Detected
100% Lamp Power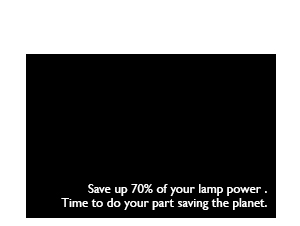 No Source Detected
30% Lamp Power
Good Things Come in Short Distances
Zero Space Constraints
You don't need a big room or a lot of free ceiling space to create a big picture when you've got an ultra-short throw projector! Teachers can think outside the box to turn every corner into the perfect place for educational use.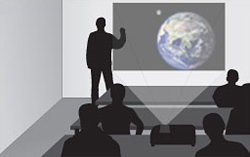 Non Short-throw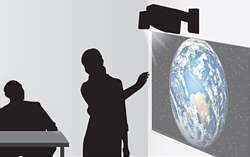 Short-throw
Zero Shadow Disruptions
An ultra-short throw projector can be placed close to the screen in front of the class and well out of students' way, greatly decreasing shadow disruptions. Teachers can enjoy teaching without worrying about the class being interrupted.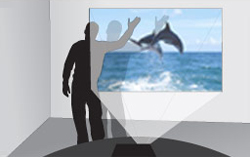 Non Short-throw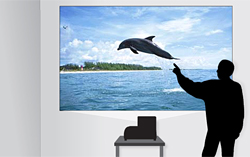 Short-throw
Zero Eye-Blinding Lights
An ultra-short throw projector keeps the projector light from shining directly into everyone's eyes. The intensity of the projector beam may be potentially harmful, so short throw technology keeps light out of the way.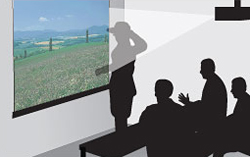 Non Short-throw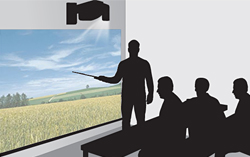 Short-throw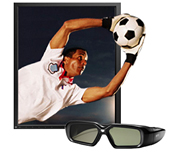 3D Blu-ray Full HD 3D Supported
BenQ's MW843UST is built with the latest DLP technology to support 3D functionality, allowing schools to bring an immersive learning experience to their students with 3D glasses and 3D content. (glasses sold separately)
Hassle-Free Projector Maintenance
Projector Management through LAN Control
LAN Control is designed to help IT managers perform day-to-day projector maintenance and repair tasks efficiently and effectively – offering them full access and control over every projector directly from their workstations. The MW843UST offers seamless support for the Crestron LAN Control system.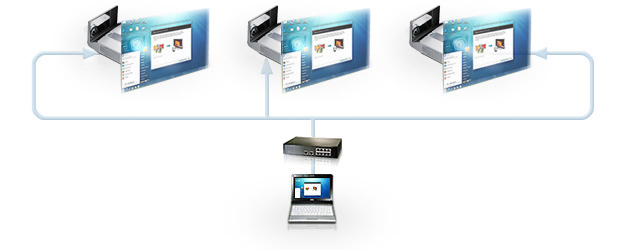 BenQ DLP® Projectors
Long-Lasting Image Perfection with DLP Technology
Timeless Image Quality
BenQ's DLP Colorific Projectors are built with enduring enjoyment in mind, ensuring razor-sharp clarity, ultra-readability and true-to-life color for years to come. We use leading-edge DLP technology to reflect pure light from millions of micro mirrors on a DMD chip through our advanced color wheels. Since the mirrors are colorless and protected within a nearly-sealed engine, BenQ DLP Projectors have no aging problems and are virtually immune to image decay, consistently delivering picture excellence time and time again. In fact, after 2,000 hours of intense usage, inserting a new bulb produces image quality comparable to a brand-new projector.
Non-DLP Projector

BenQ DLP Projector

DLP technology also affords a filter-free engine design ensuring long-lasting image quality and reduced total cost of ownership. BenQ's SmartEco™ technology further boosts contrast performance and image quality endurance while saving up to 70% on lamp power consumption.
Razor-Sharp Clarity with Ultra-Readability
Enabling a 96% fill factor, DLP Technology supplies pixel circuitry behind the pixel, eliminating the thick dark bezels around individual pixels, which diminish color and detail. A higher fill factor and less black border translate to noticeably purer, more intense color and smoother image quality.
BenQ DLP Projectors also feature high contrast ratios for flawless rendering of small text, fine lines, and dark scene details. Blacks are deeper and overall image quality is more focused and clean. Your presentations will be easily readable and highly effective, even from the back row of a well-lit venue.

Vibrant, True-to-Life Colors
Even in lit venues, BenQ DLP Colorific Projectors achieve the optimal balance of brightness and color accuracy, with BrilliantColor™ technology additionally boosting true-to-life colors that captivate. BrilliantColor enables up to six-color processing by incorporating the secondary colors Yellow, Cyan, and Magenta along with primary Red, Blue, and Green. From intense hues to elusive mid-tones like aqua blues and light yellows, your presentations are rendered in pure, living splendor.

ecoFACTS Label
ecoFACTS can tell you how eco-friendly BenQ products are!
Development of eco-friendly products, BenQ doesn't just want to comply with green regulations passively, but also to actively develop eco-friendly products!
ecoFACTS declares BenQ's greatest efforts on the replacement of hazardous substances, material selection, packaging design, energy-saving design and other aspects of the products.
Specifications:
BenQ MW843UST Specifications
Projection System
DLP
Native Resolution
WXGA(1280 x 800)
Brightness* (ANSI Lumens)
3000AL
Contrast Ratio
13,000:1
Display Color
1.07 Billion Colors
Lens
F=2.53,f=5.38
Aspect Ratio
Native 16:10 (5 aspect ratio selectable)
Throw Ratio
0.37
Image Size (Diagonal)
Optimize 64"-120" / Max up to 300"
Zoom Ratio
Fix
Lamp Type
240W
Lamp Mode (Normal/Economic/SmartEco/LampSave/LumenCare)*
3500/5000/7000 hours
Keystone Adjustment
1D, Vertical ±15 degrees
Projection Offset
147% ±5%
Resolution Support
VGA(640 x 480) to UXGA(1600 x 1200)
Horizontal Frequency
15-102KHz
Vertical Scan Rate
23-120Hz
Interface
Computer in (D-sub 15pin) x 2(Shared with component)
Monitor out (D-sub 15pin) x 1
Composite Video in (RCA) x 1
S-Video in (Mini DIN 4pin) x 1
HDMI x 1
Audio in (Mini Jack) x 2
Audio out (Mini Jack) x 1
Audio L/R x 1
Speaker 10W x 2
USB (Type mini B) x 1 (FW download)
RJ45 x 1 (LAN control)
RS232 (DB-9pin) x 1
IR Receiver x 2
Dimensions (W x H x D mm)
339 x 236.9 x 322.8mm
HDTV Compatibility
480i, 480p, 576i, 576p, 720p, 1080i, 1080p
Video Compatibility
NTSC, PAL, SECAM
Audible Noise (Normal/Economic Mode)
36/30 dBA (Normal/Economic mode)
On-Screen Display Languages
Arabic/Bulgarian/ Croatian/ Czech/ Danish/ Dutch/ English/ Finnish/ French/ German/ Greek/ Hindi/ Hungarian/ Italian/ Indonesian/ Japanese/ Korean/ Norwegian/ Polish/ Portuguese/ Romanian/ Russian/ Simplified Chinese/Spanish/ Swedish/ Turkish/ Thai/ Traditional Chinese (28 Languages)
Picture Modes
Dynamic/Presentation/sRGB/Cinema/(3D)/User 1/User 2
Accessories (Standard)
Remote Control w/ Battery: Yes
Power Cord (by region): Yes
User Manual CD: Yes
Quick Start Guide: Yes
Warranty Card (by region): Yes
VGA(D-sub 15pin) Cable: Yes
Wall mount kit (installation guide): Yes
Accessories (Optional)
Spare Lamp Kit: Yes
Wall Mount: Yes
3D Glasses: P/N: 5J.J7L25.002
Document Camera: S30
Power Supply
AC100 to 240 V, 50 to 60 Hz
Power Consumption
typical 330W, Network standby <6W, Standby <0.5W
Power Management Function
Automatic power off after 20 minutes without a display source.
Weight
5.4kg (wall mount base plate excluded)
*Lamp life results will vary depending on environmental conditions and usage. Actual product's features and specifications are subject to change without notice.
Distance Chart: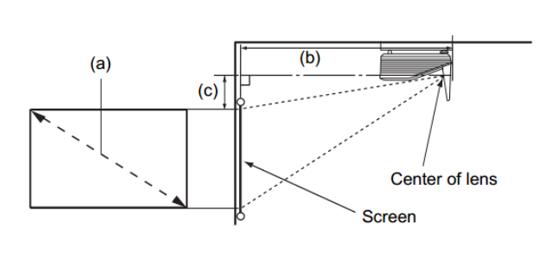 The screen aspect ratio is 16:10 and the projected picture is in a 16:10 aspect ratio
(a) Screen size
(b) Distance from screen (inch)
(c) Vertical offset (inch)
Diagonal
Height inch
Width inch
inch
mm
60
1524
32
51
19.0
7.0
70
1778
37
59
22.1
8.1
80
2032
42
68
25.3
9.3
90
2286
48
76
28.5
10.5
100
2540
53
85
31.6
11.6
110
2794
58
93
34.8
12.8
120
3048
64
102
38.0
14.0
Ceiling Mount Chart: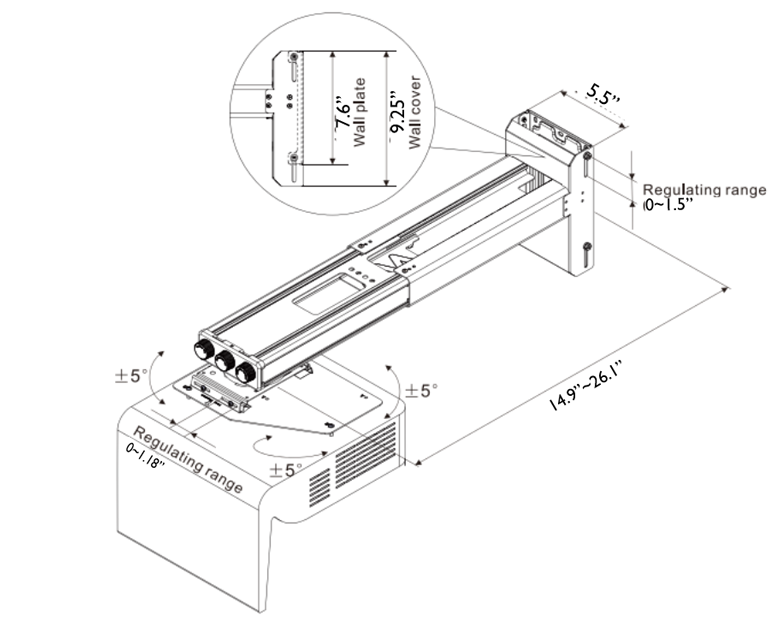 Units: inch